English professor to read from unreleased novel Oct. 18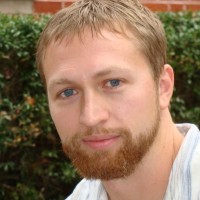 Stetson Assistant Professor of English Mark Powell will read from his third, and yet to be released, novel, The Dark Corner, at 8 p.m., Thursday, Oct. 18, in the Stetson Room, second floor of the Carlton Union Building, 131 E. Minnesota Ave., DeLand. The launch reading for the fiction writer is free and open to the public.
The Dark Corner reveals the life of a priest who remains horrified by the events of the Iraq War and Abu Ghraib. Through an exploration of the Appalachians in South Carolina, the author confronts the issues which mold modern life, such as the destruction of the natural environment and the lasting effects felt by war veterans. Faith, love and violence play major roles in his quest for happiness.
Powell, who has taught English at Stetson since 2008, said that "the book is nothing if not relevant, dealing with the collapse of the economy and the election of Obama and the accompanying rise of right-wing paranoia."
Powell is the author of four novels: Prodigals (2002, nominated for the VCU First Novel Award), Blood Kin (2006, received the Peter Taylor Prize for the Novel), The Dark Corner (2012), and The House of the Lord (2012). He has received fellowships from the National Endowment for the Arts, the Breadloaf Writers' Conference, the Collegeville Center for Ecumenical Research and the Vaclav Havel fellowship in playwriting to the Prague Seminar. In 2010, he received the Chaffin Award for contributions to Appalachian Literature.
For the past three years, he has taught a fiction workshop at Lawtey Correctional Institute, a Level II prison in Raiford, Fla. Last spring, Powell took his Stetson English students to the prison to participate in a for-credit Creative Writing course called "Creative Outreach." Read "Students help write a wrong," by Mark Powell, featured in SU Magazine, Spring/Summer 2012 issue.
"The Dark Corner is one of the most riveting and beautifully written novels that I have ever read," said Donald Ray Pollock, author of The Devil All the Time and Knockemstiff. "…Mark Powell is one of America's most brilliant writers."
The Dark Corner is currently available for preorder on Amazon and will be officially released on October 30.
For more information about the reading, contact Stetson's English Department at (386) 822-7720. Cultural credit is available for Stetson students.