Florida Campus Compact honors StetsonU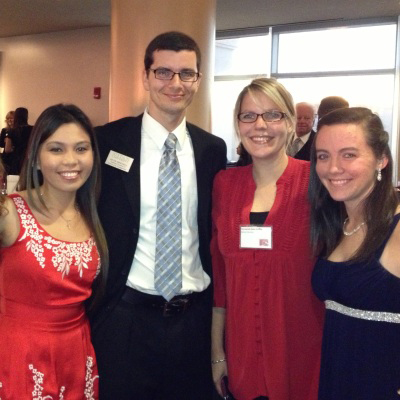 Each year, Florida Campus Compact (FL/CC) honors one institution of higher education as the Overall Engaged Campus of the Year, and one in each of three sectors, for advancing the public purposes of higher education, improving community life and educating students for civic and social responsibility. At the FL/CC awards gala held Nov. 8 in Tampa, Stetson University received the top Overall Award for the Most Engaged Campus in the state of Florida. In addition, a Stetson professor was awarded the Graham Frey Award for outstanding contributions to sustaining America's participatory democracy; a recent Stetson graduate was recognized as an outstanding AmeriCorps member; and the university was also a finalist for the campus-community partnership award.
Stetson University's mission statement describes the goal of fostering in students "the qualities of mind and heart that will prepare them to reach their full potential as informed citizens of local communities and the world." Leadership and responsibility for this institutional commitment is spread throughout the university, with individuals in academic affairs and campus life working collaboratively towards this end.
Within the past academic year, Stetson University students volunteered more than 90,000 hours of curricular and co-curricular community service projects including: mentoring and tutoring economically-disadvantaged or at-risk youth, providing legal pro bono service, removing invasive plant species from the local national and state parks, teaching English to migrant farm workers, advocating for social justice and human rights and more. Through the Volunteer Income Tax Assistance Program students provided 98 mid-to-low income individuals and families with tax return assistance, securing refunds totaling $182,092. The Stetson community has also embraced the New Horizons Service Dogs Program where 50 Stetson students, faculty, staff and alumni raise service puppies until they are fully trained to be partnered with an individual that is disabled. Additionally, they raised over $53,000 for disaster relief, cancer research, student scholarships and non-profit organizations.
Along with direct service and fund-raising efforts, Stetson also donated blood; hosted professional development workshops for community partners; recycled over 234,000 pounds of paper, cardboard, aluminum and plastic; circulated petitions; marched, walked, danced, ran and fasted for a cause and made a significant difference on campus, in the community and around the globe.
The Stetson combination of academic excellence and attention to civic and social responsibility positions students to reach their full potential as informed citizens of local and global communities. Students graduate with a professional skill-set, independent judgment, a global perspective, a grounding in ethics and a strong sense of leadership. Frederick Buechner, famous American author and theologian, states, "vocation is the place where your deep gladness meets the world's deep need."  Stetson University defines this as significance.  The  goal for Stetson's students and graduates is to move beyond success to significance.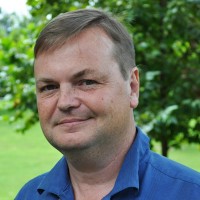 Graham Frey Award – Award Winner – Dr. William Ball – Named for the extraordinary civic legacy of U.S. Senator Bob Graham and Congressman Lou Frey, the Graham Frey Award recognizes outstanding contributions to the development of civic learning and engagement in sustaining our participatory democracy.
Stetson Professor of Political Science William J. Ball, known for his passion for local civic engagement, is the winner of the 2012 Graham Frey Award. A very active civic educator, Dr. Ball mentors his students to assume leadership roles in the community. Ball and his students engage members of the Stetson community, non-profit and local government partners and members of the public in non-partisan, public deliberations on important civic issues. He brings his Stetson students into partnerships with local governments to conduct research and action projects designed to increase public participation in local policy decisions, particularly in the areas of long-range planning and sustainability development. Ball is the director of Community-Based Research at Stetson, where he recruits and supports other faculty to collaborate with their students and community partners to raise the civic capacity of the region. He was published in academic journals on civic education, deliberative democracy, pedagogical innovation with new technologies, and evaluating political argumentation. He occupies leadership roles in the American Political Science Association in the area of undergraduate education. He has received numerous grants to conduct and evaluate participatory democracy projects, particularly through his long-term relationship with the Kettering Foundation. Ball is the 2008 recipient of the McGraw Hill Award for Teaching and Scholarship in Civic Education. 
AmeriCorps Member Recognition – Award winner – Steven Carrillo '11 – This award recognizes outstanding AmeriCorps members who have demonstrated great success in addressing the needs of low-income or under-served individuals or communities while advancing the mission of FL|CC.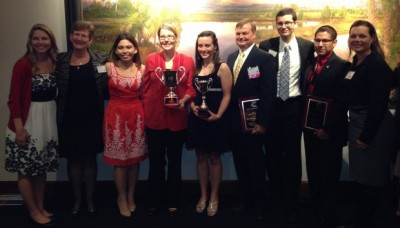 Steven Carrillo, who graduated from Stetson in 2011 with a major in Psychology, and a minor in Marketing, is the winner of the 2012 AmeriCorps Member Award. Carrillo has served as an AmeriCorps VISTA at the Center for Community Engagement at Stetson University for the past year focusing on building the infrastructure of youth empowerment programs and developing community partnerships. He advises student service organizations, serves on the DeLand Unity Coalition and has presented at numerous conferences on youth empowerment and mentor-training.
Campus-Community Partnership Award – Stetson University is also a finalist for the award that recognizes one outstanding campus-community partnership that produces measurable improvements in peoples' lives while enhancing higher education.
Stetson University has enjoyed a long history partnering with the United Way of Volusia-Flagler counties, specifically through the Volunteer Income Tax Assistance (VITA) Program, allocations committee, internships, volunteer opportunities, and fundraising campaigns. Students have coordinated the VITA Program at Stetson, offering free tax assistance to community members, resulting in 94 completed 2011 tax returns and $182,092 in tax refunds.
Every year United Way raises money for their annual campaign, which is then distributed and allocated to Volusia and Flagler counties' non-profit agencies. Stetson faculty and staff donate money to this campaign every year. In 2011 Stetson donated over $3,000 to the local United Way campaign. Through Stetson's School of Business Administration, students volunteered on 11 United Way allocations panels, reviewed 58 programs and helped distribute $1.84 million to programs and services in Volusia and Flagler counties.  This process allows students to use what they learn in the classroom and apply it throughout the allocations process. In addition to these programs, Stetson students participate in many of United Way's events and volunteer opportunities throughout the year.