Stetson University to purchase University Inn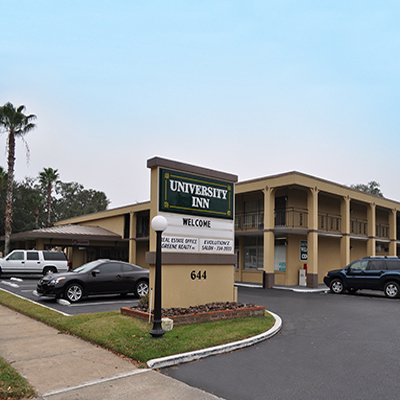 When Stetson University came to Hina and Sara Patel, principal owners/operators of the University Inn, and expressed an interest in leasing the property for up to three years for the university's planned increase in undergraduate student population, they told Stetson Vice President for Business and Chief Financial Officer Bob Huth that they would be more interested in selling the Inn.
"Given the difficulty in reestablishing ourselves in the market after a three year absence, we thought it best to just sell the property," said Hina. That began the conversation that led to the sale.
"Hina and I thought, why not sell the property to Stetson," said co-owner Sara Patel. "We look across the street at the university and have confidence that Stetson will take care of it."
Huth led Stetson's efforts to negotiate a price for the sale of the property with the owners, Luv-Kush Investments, Inc. "The Patels have taken excellent care of this facility in a very difficult economic environment," Huth said.
"This really helps us not go into an accelerated residence hall building process in order to have a hall ready for the anticipated enrollment growth this fall," Huth said. "Purchasing and renovating the University Inn buys us time to do better planning for a future residence hall."
Located at 644 N. Woodland Boulevard, DeLand, the University Inn is convenient to Stetson University's historic campus and will serve the university's needs as it grows to the projected 3,000 undergraduate students by the year 2016.
Maximum capacity as planned at the renovated facility is 112-115 students. Plans include having a campus safety officer located on the property, as well as a permanent resident advisor.
Greene Real Estate and the hair salon have been notified as have all employees. The University Inn has 15 full- and part-time employees and the Patels are committed to helping them secure employment. "Sara and I will get them placed," Hina Patel said.
The property will operate as the University Inn under the present owners until June 30, 2013. Stetson will renovate the property and have it ready for student occupancy in August 2013 in time for the start of the 2013-14 academic year.