Hatters A-Sun Sand Volleyball Pair of Week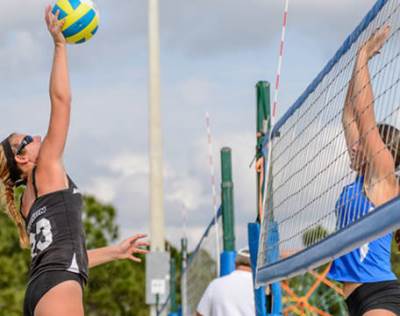 Stetson sand volleyball juniors Katie DiGirolamo (Brandenton, Fla.) and Jordann Dierickx (Jacksonville, Fla.) have been named the Atlantic Sun Conference Pair of the Week, the league announced on Wednesday.
DiGirolamo and Dierickx went a perfect 4-0 on the week and also helped lead Stetson to a 4-0 mark as the Hatters registered the first two regular season conference wins in A-Sun sand volleyball history.
Those historic wins came at Florida Gulf Coast on Friday as DiGirolamo and Dierickx defeated FGCU's no. 3 pair of Olivia Mesner and Linds Childs 2-0, 2-1, battling through a hard-fought third set in the second match to win 17-15.  They also swept Florida Atlantic's no. 3 pair 2-0, 2-0 at home on Tuesday, rallying from 11-3 and 19-16 deficits to win 21-19 in the first game.  They went on to win the next three games 21-14, 21-9, 22-20.
After starting the year at the no. 5 spot, DiGirolamo and Dierickx have moved up to the no. 3 position, and they have won five straight matches overall.  They own a 9-2 record on the season.
It is Stetson's second A-Sun Pair of the Week selection this season.
The Hatters (7-4, 2-0 A-Sun) will travel to the JU Easter Sand Tournament this Friday and Saturday to face Jacksonville twice, and the College of Charleston and Florida State once.