Holler Fountain holds more than water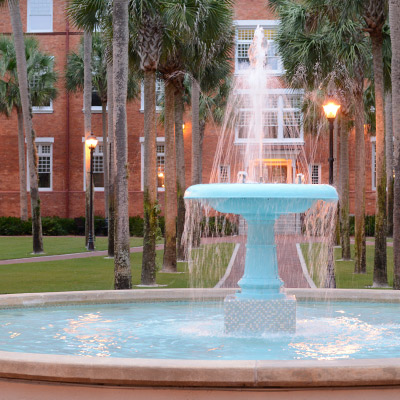 As a student at Stetson University, the odds of having at least one memorable moment near Holler Fountain in the Palm Court is almost guaranteed.
The iconic fountain, once referred to by a past Stetson University president as a "fountain of youth," has stood indelibly for more than 60 years as a symbol of pride and community in the university landscape.
Like us, it also transforms with age and trends. Those who are back for SU's homecoming may notice the centerpiece of the university went from Hatter green to aqua blue, which caused quite a buzz around campus this fall.
"The aqua blue color is not 'new' but rather the original color of the cast iron fountain," explained Al Allen, associate vice president of facilities management. The original color was discovered when the fountain was renovated in 2001, and it was that original, very bright blue hue that greeted students when they arrived on campus this semester.
The campus centerpiece was built in DeLand, commissioned by Earl Brown of Florida Exhibits, Inc., who designed it to symbolize the hopes and ambitions of the many builders of Florida. It was constructed as a presentation piece for the 1937 Great Lakes Exposition in Cleveland and at the World's Fair in New York in 1939-1940. The fountain is known as an Aqua-Lux type (water and light) and at the time, it was "unsurpassed in beauty and size in Florida and the United States," according to Brown.
It was erected there in the center of campus, known at the time as the Quad, for SU's Baccalaureate Service in June 1951 as a gift from William E. Holler, Jr. He donated the fountain in memory of his father, William E. Holler, who was an executive with General Motors. The inscription on the plaque commemorating the elder Holler reads, "Built for the future, while others think only of today."
Then-president J. Ollie Edmunds wrote the following about the fountain: "What could be more appropriate as a symbol of Stetson University than a fountain! Mrs. Alfred I. duPont, who has been such a generous benefactor of Stetson and other privately-supported colleges, recently described these institutions as 'fountains for the free-flowing of forces that will keep vigorous our heritage and our hope.' Stetson University was founded in 1883. Since that time thousands of young men and women, from every state and many countries…have learned of their heritage of self-respect, self-reliance and individual initiative. From this spiritual fountain of youth they have gone out into the world to take their place as ministers, teachers, lawyers, doctors, governors, legislators, judges, business men and responsible men and women, in scores of other walks of life."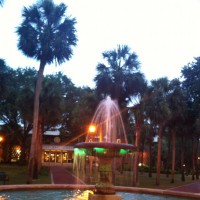 Holler Fountain in Stetson's Palm Court certainly has a long and colorful history, and we'd love to hear your favorite fountain story. (Photo, left, courtesy of Stetson University Photo Archives)
Dave Rigsby, known as Stetson's "dean of green," recently shared this remarkable tale: "On my way to the beach with my kids many years ago, a Volkswagen zipped past us with a shark tied to the roof. The tail draped over the windshield and the body was on top and the head laid on the back window. It was about eight feet long. My kids asked, 'Dad, why is that huge fish on top of that car?' Jokingly, I told them they were going to put it in the fountain. When I got home from the beach, Public Safety called me and said I needed to see something at the fountain. Sure enough, that shark was in the fountain!"
Do you have a fun or special memory of Holler Fountain? Tell us about it! #HatterHC
by Trish Wieland