Senior Career Conference inaugural by CDAA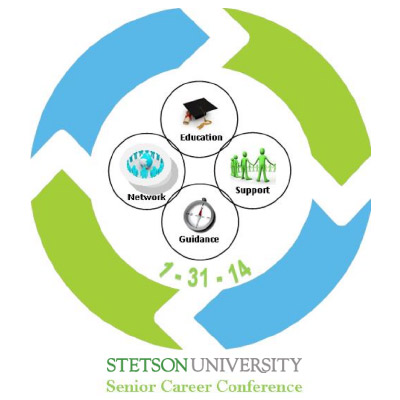 The Office of Career Development and Academic Advising (CDAA) is excited to present the inaugural Senior Career Conference scheduled for Friday, Jan. 31, 2014, from 1-5 p.m. Research shows that most job searches and graduate school application processes take six months or more to complete, but students can potentially reduce that time-frame by engaging early and often with recruiters through programs such as the Senior Career Conference.
The conference, exclusively for Stetson seniors, will offer a variety of educational programs and discussions focused on key career development topics including professional networking, conducting a career search, communicating with employers and recruiters, and interviewing techniques. The conference will culminate with a casual networking event to allow students the opportunity to practice their professional communication skills by interacting with recruiters who actively recruit on Stetson's campus. Many of the participating recruiters will be seeking soon-to-be graduates for employment opportunities and graduate school admission.
Seniors interested in participating must pre-register by joining the Stetson University 2014 Senior Career Conference LinkedIn group. Recruiters will also connect to this group, which in turn will provide a direct line of communication between students and recruiters and allow for electronic networking between the two.
Seniors who do not have a LinkedIn account or would like assistance in creating one can visit with a CDAA staff member in Flagler Hall 102 or visit the LinkedIn Tutorial page. Additional questions about the conference should be directed to the CDAA at [email protected] or 386-822-7315.