SU top community partnership winner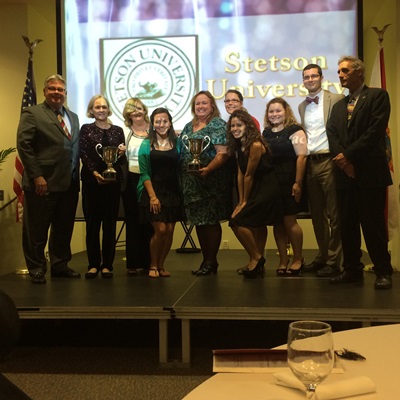 The Florida Campus Compact (FLCC) presented Stetson University the top 2013 Campus-Community Partnership award for partnership with the Volusia County Public School District, at the FLCC Annual Awards Gala held on Nov. 7, at the Boca Raton campus of Palm Beach State College.
Stetson's director of community engagement Savannah-Jane Griffin, and assistant director Kevin Winchell were also honored as FLCC 2013 Above and Beyond Award recipients for helping FLCC advance its mission to create a culture of engaged scholarship while educating students for civic and social responsibility across the state of Florida. Winchell facilitated a three-hour session in collaboration with TurboVote and the Fair Elections Legal Network on the Campus Democracy Project – Preparing for 2014 and 2016. He also served as the North Central Florida regional facilitator.
(Pictured, left to right: Jim Murdaugh, president of Tallahassee Community College; Stetson education professors Bette Heins and Kathy Piechura-Couture; Heather Hamilton, AmeriCorps VISTA; Karen Beattie, Volusia County Schools Professional Development Coordinator; Savannah-Jane Griffin (in back), director of Stetson's Center for Community Engagement (CCE); Gladys Valle '14, student assistant; Amber Finnicum-Simmons '16, Bonner Scholar; Kevin Winchell, assistant director, CCE; and Doug MacIsaac, visiting assistant education professor and PDS liaison.)
This video, featuring Karen Beattie, professional development coordinator with Volusia County Schools, was shown at the awards ceremony, highlighting Stetson's partnership with Volusia County Schools.
For 16 years, through Stetson's Nina B. Hollis Institute for Educational Reform, the university's Education Department and the Hollis Team have helped reform education in K-12 classrooms through the Professional Development Schools (PDS).
"Stetson University's Nina B. Hollis Institute has a long standing commitment to educational renewal with the Volusia County School District through our Professional Development Schools," said visiting assistant professor of education Doug MacIsaac, who also serves as Stetson's PDS liaison. "For over 16 years our partner schools have undertaken many innovative and exciting initiatives related to student achievement, faculty development, family involvement and teacher candidate preparation. It is a privilege to collaborate with our school based colleagues to support a diverse community of learners at all levels of educational development."
PDS are schools that work on a deep level with universities in education reform through the establishment of common goals, such as implementing critical inquiry between teacher and student, providing optimum sites for teacher candidate preparation, offering educator professional development, maximizing student outcomes, and much more.
The initiative has created innovative programs in local public elementary schools such as the Starke (Elementary) S.T.A.R.S. (Students Turning Around and Reaching Success) at-risk intervention program, the Blue Lake (Elementary) DaVinci Club afterschool literacy enhancement program, and the single gender option of Woodward Avenue Elementary School. The Stetson student-teacher candidates also benefit from integrated field experience that is aligned with course work across their education program.
The relationship is wholly symbiotic because while Stetson students majoring in elementary education participate, they also receive hands-on experience that will prepare them for their future careers.
Working on a three-year cycle, the current cycle (from 2012-2015) of the Stetson University PDS Network is currently working with Blue Lake Elementary School, Edith I. Starke Elementary School, Woodward Avenue Elementary School, and Citrus Grove Elementary School.
At last year's FLCC awards gala held in November 2012, Stetson University received the top Overall Award for the Most Engaged Campus in the state of Florida. Political science professor William J. Ball, known for his passion for local civic engagement, won the 2012 Graham Frey Award for outstanding contributions to sustaining America's participatory democracy. Steven Carrillo '11, received the award for the outstanding AmeriCorps member who demonstrated great success in addressing the needs of low-income individuals while advancing the mission of FLCC. And, the university was a finalist for the Campus-Community Partnership Award for Stetson's partnership  with the Volusia-Flagler United Way through the Volunteer Income Tax Assistance (VITA) Program, offering free tax assistance to community members, resulting in 94 completed 2011 tax returns and $182,092 in tax refunds.
by George Salis