WORLD International Learning Staff honored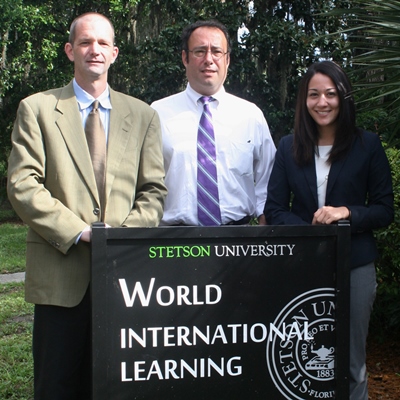 The staff of Stetson's WORLD: International Learning department have not only been busy supporting students, faculty and activities on campus, but all members of the staff have recently been recognized for their strengths within the field of international learning at the local, regional, national and international level.
"Getting the Stetson name better-known in international education circles is critical to the success of the university's strategic goal of making global engagement central to the Stetson experience," said Beth Paul, provost and vice president for academic affairs. She commended the WORLD: International Learning staff for the increased, dynamic outreach efforts on behalf of Stetson University.
Eric Canny, executive director, (pictured far left) was selected to present at NAFSA: Association of International Educators this year on the strategic planning of global operations and safety. Stemming from his presentation, he and Stetson will be engaging with the SAFETI (Safety Abroad First – Educational Travel Information) Clearinghouse Project, which creates and disseminates resources to support study abroad program development and implementation, emphasizing health and safety issues. He was also selected to author a chapter for NAFSA on student preparation and orientation that will be released this fall.
Canny was also one of approximately 1,200 educational, corporate, political and social leaders invited from over 100 countries to take part in three days of debate, dialog and networking at the World Innovation Summit for Education sponsored by the Qatar Foundation in Doha, Qatar.
Simon O'Rourke, (pictured center) who recently joined Stetson as associate director of academic international learning initiatives, bringing decades of experience in many facets of international development and education to the university, was invited to present at the Independent Colleges and Universities of Florida's  Fifth Annual Taiwan-Florida Higher Education Conference. In support of the conference theme, Gateways and Pathways to Emerging Millennium Challenges and Opportunities for Higher Education, O'Rourke spoke about "The Enduring Value of the Liberal Arts at Independent Colleges and Universities: A Strategy for Success in Global Higher Education." His talk highlighted Stetson as a distinctive, leading example of an American liberal arts university in the global age, cited examples from his background at similar institutions around the world, and made the case for why the liberal arts remain the best form of higher education for educating the world's future leaders in a wide range of fields.
Paula Hentz, (pictured right), study abroad coordinator, and April Thompson from the Academic Success Center, were selected to present at the NAFSA Region VII Conference in Raleigh, North Carolina, this year. Their session, "Passport to the WORLD: Navigating Student Ability in Engaged Learning Abroad," focused on encouraging students with disabilities to participate in high-impact practices abroad while navigating the huge range of international laws and cultural views regarding ability. In particular, they will examine the opportunities and challenges in the philosophies, resources and funding for students with disabilities, and encourage their participation in study abroad. 
"I am proud that we have a great, innovative story to tell, such highly experienced people to tell it, and a very bright future with our strong connections with global counterparts and partners nationally and throughout the world," Provost Paul said. "This kind of active outreach helps strengthen Stetson's own capacity to learn from others in order to provide innovative educational experiences for our students and faculty; and it powerfully promotes Stetson's own experiences globally," she added.