Alum wins 'They Might Be Giants' Video Contest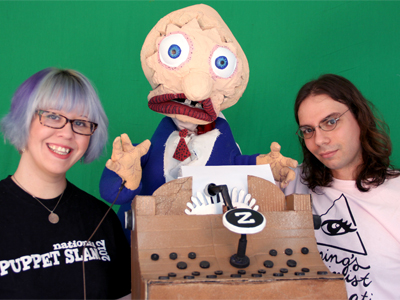 Local puppeteers' surreal, no-budget vision is an official video for the song "Am I Awake" by They Might Be Giants.
In late February, They Might Be Giants put out a call for music videos based on their track "Am I Awake" to support the release of their new compilation album, Idlewild. The band demanded "…Beautiful, bold, stylish, contemporary, psychedelic, mind-bending" entries. Jack Fields, a local artist known for his work with puppets, digital animation, and video, delivered. (Pictured right, Jack Fields with creative partner Hannah Miller.)
Posted on the They Might Be Giants video channel as an official representation for the track here (https://www.youtube.com/watch?v=YQeFPw-noAc), his award also includes $1,000 and a pre-release copy of the compilation album. The video will also be released on the band's Vimeo Channel later this week.
Enlisting his creative partners Hannah Miller, John Regan III, and April Tennyson, Fields and his team embarked on a whirlwind week of building and shooting. Most of the puppet characters were chosen from Field's personally-created menagerie of existing creatures, but a typewriter monster had to be fabricated nearly overnight from garbage lying around their studio by Miller to match the crude, surreal aesthetic of the story. Time was especially short for this crew, since Fields had to leave for two weeks to Canada to fulfill a puppetry residency funded by the international organization of puppetry, UNIMA, before the contest deadline. Regan stayed past midnight to capture shots in spite of the 5 a.m. call time for his day job. Tennyson switched shifts at the City Pottery Studio in order to help complete the video. Even so, time was running too quickly and too short! Luckily, the team's Gainesville-based puppet friends Daniel Ballard and Rachel Wayne showed up and spent their entire day-long social visit assisting with whatever tasks were put to them on set. After the shoot, Fields spent the evenings of his Canadian residency performing the complex rotoscoping and editing work needed to remove puppeteers from the shots and assemble a finished video.
At 1 a.m. EST, Tuesday, April 29, contest judge John Hodgman announced three winners, including Jack Field's entry, which he titled "Murderous Puppet Typewriters."
"Startling, original, repulsive in the most beautiful way, it engages with the lyrics without being an on-the-nose dream sequence. And the physics of puppet dismemberment are as accurate as I recall from puppet medical school."  -John Hodgman
Jack Fields graduated from Stetson University in 2006 with a B.A. in digital arts and is currently the Digital Media Producer at IBEX Puppetry. He has received grants from United Arts of Central Florida and The Puppet Slam Network as well as a scholarship from UNIMA-USA in support of his puppetry and film endeavors. His short film, Happy Memories, is currently touring festivals, and his second, Hey Einstein, is in pre-production.
"My time at Stetson was defined by my connection to a community," said Fields. "Though my professors were instrumental as sources of knowledge and guidance, my most important support came from the other students. When I was a freshman, the seniors were not afraid to criticize my laziness and push me to higher standards. Ben Burbank would work late into the night to finish his projects, which left a profound impression on me. There were student film exhibitions and poetry performances that allowed me to explore performance art, sculpture, and animation, all of which would become important when I began practicing puppetry after I graduated. I remain nostalgic about my time there, and my closest friends are the ones I met while staying up late into the night, hidden in the guts of the computer lab."
Learn more about Jack from his site, youtube.com/doctorbeaumonte
Hannah Miller is a sculpture B.F.A. candidate at University of Central Florida and graduate of the Studio Arts program at Valencia College. She is the director of Marketing and PR for IBEX Puppetry. She has received grants from United Arts of Central Florida, The Puppet Slam Network, and Puppeteers of America in support of her puppetry work. Hannah is a three-time alumna of the Eugene O'Neill Theatre Center's National Puppetry Conference.
Learn more about Hannah on her site, wholepart.weebly.com/
John Regan III is a graduate of Full Sail University and accomplished freelance camera operator and editor. He has partnered previously with Jack Fields on the short film Happy Memories, currently touring film festivals internationally.
Video Link: https://www.youtube.com/watch?v=YQeFPw-noAc