Stetson 2013 Outstanding Volunteer Group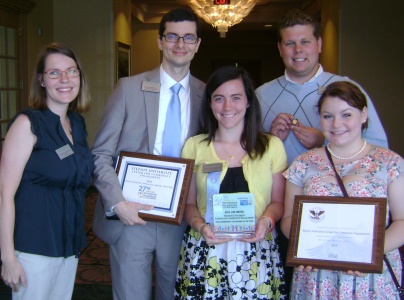 On Thursday, April 24, Stetson University Center for Community Engagement was awarded as the 2013 Outstanding Overall Civic/Community Volunteer Group at the United Way of Volusia and Flagler counties 27th Annual Outstanding Volunteers of the Year Awards. Stetson University was also honored with the Gold Level Presidential Volunteer Service Award that recognizes the valuable contributions Stetson volunteers have made in the community. (Pictured, left to right: Savannah-Jane Griffin '07, Kevin Winchell '07, Heather Hamilton, Michael Zirkel '13, Amber Finnicum-Simmons '16.)
Out of 45 nominees Stetson University was nominated twice for the Outstanding Overall Group Award by two of Stetson's long standing community partners: the Arc of Volusia and the Neighborhood Center.
"It is a great honor to receive this prestigious award," said Savannah-Jane Griffin, director of Community Engagement. "Stetson University is an institution whose identity is grounded in the value of community engagement and social justice. We are constantly challenging and supporting the Stetson community to make a difference in their local and global communities."
Last academic year, 2,421 Stetson students volunteered more than 114,000 hours to curricular/co-curricular community service projects—mentoring/tutoring economically disadvantaged/at-risk youth, providing pro bono legal service, removing invasive plant species from a national wildlife refuge/state parks, teaching English to migrant farm workers and advocating for social justice and human rights. Through the Volunteer Income Tax Assistance Program students provided 172 mid-to-low income residents with tax return assistance, securing refunds of $202,148. Stetson embraced the New Horizons Service Dogs Program, in which 50 students, faculty, staff and alumni raised service puppies for training and partnering with disabled individuals. Students raised over $55,000 for disaster relief, cancer research, scholarships and nonprofit organizations.
Beyond community service, students donated blood; hosted professional development workshops for community partners; recycled 437,082 pounds of paper, cardboard, aluminum and plastic; repurposed over six tons of surplus inventory through non-profit community partners; circulated petitions; and marched, walked, danced, ran and fasted for causes. Students made a difference on campus, in the community and around the globe.
Read more about the 2014 winners in this News-Journal article.