George students seeing double — again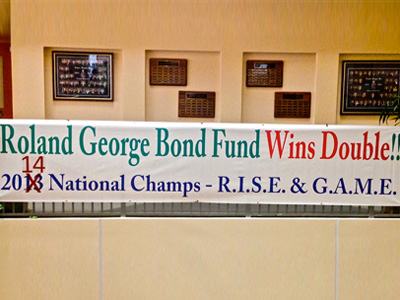 Roland George Investments Program's portfolio adds two more wins to its impressive list of championships.
Double talk? Oh, no. Not in the hard-nosed, fact-based world of Stetson University's Roland George Investment Program (RGIP). But there has been a lot of talk about doubles since the "George students" took double national championships – again.
"It's a double, double win," is the way K.C. Ma, Ph.D., C.F.A., describes the two top bond portfolio victories in two consecutive years at two of the nation's top student investment competitions.
Ma, Roland George chair of Applied Investments and director of the George Investments Institute, didn't even make a new banner to stretch across the Stetson School of Business Administration's lobby proclaiming the wins. He just took last year's big banner, crossed out 2013 and added 2014.
"Some people thought it was a typo, but most got the double-double idea," Ma said of the recycled poster. The stellar program produces graduates who are years ahead of their job market competitors because of the cutting-edge methods that turn students into investment analysts who manage millions of dollars before they graduate.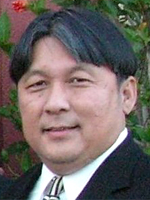 "George students" — as the student investors are called around campus —  are known for multiple wins. Stetson is the school to beat every year at the University of Dayton's RISE and the University of Quinnipiac GAME competitions. More than 200 universities and academic institutions this year took part in RISE and almost 240 at GAME.
RGIP's stock portfolio yielded 34.23 percent, nearly five percent more than the Standard and Poor's benchmark. Its bond investments yielded 5.17 percent, more than 10 percent above the 10-year Treasury note benchmark. The performance was good enough to place first in the Fixed Income categories at both the GAME and RISE competitions.
RGIP's stellar $3.2 million portfolio has won 15 national championships in 14 years, consistently outperforming many top investment professionals. It's a daunting accomplishment. In fact, the toughest competition facing the RGIP portfolio may be its own championship record.
No one wants to be the player who fumbles.
"The winning tradition becomes a burden of responsibility for those in the George program," said Joseph Dye '13, a portfolio administrator at ZPR Investment Management in Orange City. "Every year, students don't want to be the class that didn't win, so there's a lot of pressure. And, with that pressure, students really strive to give that extra effort."
Dye was an outstanding Stetson baseball player, so the commitment to make that extra effort for a win is ingrained in his character. Numerous outstanding athletes have found success in RGIP, including Vitorrio Fratta '05, a top tennis player who says athletes' commitment and competitive spirit also fuels academic success.
A winning legacy looms over students, said Bonnie Harper, a senior from DeBary who plans to work in wealth management.
"It can be intimidating to pitch a stock or bond because you don't want to be wrong," said Harper. "You want to make money for the portfolio and you want to keep winning. That makes you work harder."
Students say the fact that they are fiduciaries with a real responsibility for real money that is not their own is drilled into them and makes them work harder and smarter.
"RGIP wins for one reason," said Mathew Buttner '13, a George alumnus and Lake County real estate investor. "We go above and beyond, and do what other teams won't." RGIP principles, as instilled by Ma, include "working harder than anyone else, doing what others won't and finding vital details others overlook. That's how you succeed. It's all about hard work. There's no such thing as luck."
Co-founder and partner of Pacific Vista Advisors near San Francisco, Fratta said there was no "real-world jolt of adjustment" when he transitioned from student to professional. "I made the transition in the George program. It took away those initial fears and anxiety of managing real money because I had already been doing it."
Now, nearly a decade later, his work is more complex, but "the backbone of everything I do, I learned in the Roland George Investments Program."
RGIP is based on methods used by world-class financial firms. Student analysts use the same tools including software like Reuters, Bloomberg, Telemet and Morningstar. They research a universe of possible investments; analyze financial ratios, performance, management and insider activity; and factor in a myriad of other details before deciding what investment to recommend. They make presentations to a student-majority board of trustees that makes the final investment decision.
"I think the program's success is a function of how it is conducted and the fact that students have the power to make decisions and influence the portfolios," said Stacey Hudson, '10, an investor relations manager for Alon USA Energy in Dallas. "We were reminded regularly that we were fiduciaries. Students take that responsibility seriously. I felt I was better prepared than most of my peers as I entered the real world."
Manuel Preg, a senior from Austria who made the trip to Ohio for RISE, felt better prepared than many of his peers at the conference when students and professors from other schools began to ask Stetson's George students for advice.
"Because of our achievements in the past, many people recognized us at the conference," said Preg. "Several students and professors came up to us and asked specific questions about how we chose our investments and why we thought we are always so successful.
"It was definitely an inspiring moment."
by Ronald Williamson