Stetson Jazz pays tribute to Stan Kenton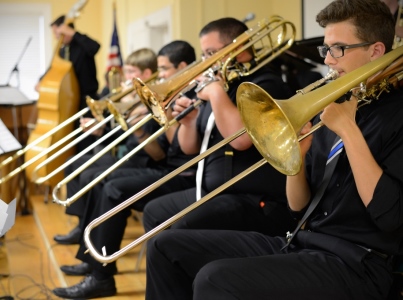 The Stetson University Jazz Ensemble will honor the work of band leader and educator Stan Kenton on Wednesday, April 23, 7:30 p.m., in the Stetson Room, upstairs in the Carlton Union Building, 131 E. Minnesota Ave., DeLand.
From the early 1940s through the 1980s Kenton led one of the most dynamic and progressive jazz orchestras of the post-war years. He and his band also gave hundreds of clinics with high school and college age students, building a love for jazz among younger generations.
Stetson's 19-player ensemble will present an all-Kenton program, which includes Artistry in Rhythm, Bernie's Tune, Peanut Vendor, and Intermission Riff, and will feature guest trumpeter Jack Nedorostek in Leonard Bernstein's Maria.
"For us brass players growing up in the 1950's, The Stan Kenton Orchestra was IT," said Don Waldrop, director of Stetson's Jazz Ensemble. "We couldn't believe what those wonderful Kenton players could do – Maynard Ferguson, Buddy Childers, trumpet, Frank Rosolino, Milt Bernhart, trombone, George Roberts, bass trombone. And the sax players, Bud Shank, Lee Konitz, Bill Perkins! All were showcasing performance abilities we could scarcely believe!
"The musicians of Stetson Jazz, college-age and highly talented, are capable of performing the music my college colleagues and I could scarcely dream of playing. We will be performing many of the hit recordings of the Stan Kenton Orchestra of the early 1950s. I sincerely urge you to attend what I consider our most exciting "Stetson Jazz" evening yet!"
Tickets are $10/Adults; $8/Seniors; $5/Area Students. It is complimentary for Stetson faculty, students and staff with Stetson ID. Tickets are available at the door or in advance at https://www.ticketreturn.com/prod2/Buy.asp?EventID=103674. The schedule for upcoming concerts can be found online at Stetson University School of Music, or call 386-822-8950.