Stetson named Best for Veterans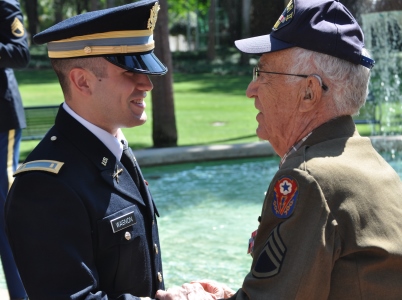 When it comes to veterans seeking a business degree, Stetson University is a perfect fit, according to Military Times, which named Stetson's School of Business Administration a "Best for Vets: Business Schools" in its annual 2014 rankings. Military Times named Stetson University School of Business Administration as the 46th best school in the nation for veterans to attend. (Pictured, Ronald Ethan Wagnon '13, shakes the hand of a family friend, U.S. Army veteran from World War II, following Stetson's 2013 ROTC commissioning ceremony for graduating cadets.)
Overall, schools were evaluated in five categories: university culture, student support, academic outcomes and quality, academic policies, and cost and financial aid. The value of each section was comparable, but university culture and student support counted the most, and financial aid counted the least.
Stetson prides itself on creating an environment suitable to veterans while offering many different resources to aid in them in success. Stetson has committed $800,000 to offset the cost of education to a limited number of military veterans across all of the university's full-time and part-time undergraduate and graduate programs as part of its participation in the GI Bill's Yellow Ribbon Program.
"The Post-9/11 G.I. Bill covers my tuition for the first semester then Stetson covers the second semester so that I can go to school for the full year without any student loans," said Stetson student Christopher Griffin, who served as a medic in the Army for four years.
In addition to being named a Best for Vets school, Stetson also has been recognized as a "Military Friendly School" the past two years. This designation is given to colleges, universities, and trade schools in the country that are doing the most to embrace America's military service members, veterans, and spouses as students and ensure their success on campus.
Stetson's Veterans Law Institute, dedicated in 2012, provides legal services to the growing population of military members, veterans and their families in the Tampa Bay area by bringing together volunteer attorneys, volunteers from other fields, Stetson faculty, Stetson students and other community organizations. Stetson's Veterans Advocacy Clinic serves the community by representing area veterans appealing decisions denying Veterans Administration disability benefits.
The rankings are published in full in Military Times' EDGE magazine and online at MilitaryTimes.com.
For more information regarding admission to Stetson University please contact Stetson Admissions via phone (386-822-7100) or Stetson's website.
By Andy Patel