Piano major presents senior recital Sunday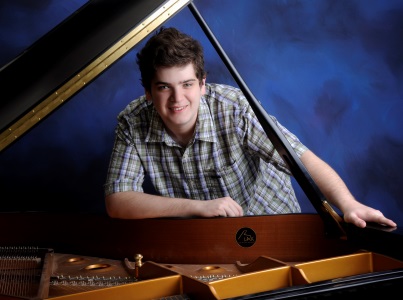 Stetson University's School of Music will present pianist Jeremy Vigil in recital on Sunday evening, April 13, 2014 at 8:00 p.m.  The concert will take place in Lee Chapel inside Elizabeth Hall, 421 N. Woodland Blvd., DeLand. The free recital is open to the public and is being performed in partial fulfillment of a Bachelor of Music in piano performance.  A reception in 132 Presser Hall will immediately follow the hour-long recital. 
Included on the program is a diverse selection of solo piano works by J.S. Bach, Aaron Copland, and Robert Schumann. This concert is in addition to numerous other performances presented during the semester, including a recent appearance as soloist with the Stetson University Chamber Orchestra, Anthony Hose, conducting.
An avid collaborator and solo artist on and off the Stetson University campus, Jeremy has performed extensively on piano, organ and harpsichord.  As a student of Dr. Michael Rickman, Professor of Piano, and Dr. Boyd Jones, Professor of Organ, Jeremy is the recipient of numerous awards.  Most notably, the Stetson music faculty named him 2013 -2014 Presser Award Scholar, the highest honor bestowed upon a Stetson music student.  He was also distinguished as Sophomore of the Year in 2012.  In addition to his solo appearances, his collaborations with Stetson University faculty and students have led to over 40 performances each semester.
Since beginning private piano study at the age of 5, Jeremy was performing publicly at an early age where he was featured on the program, "Arts Alive!"  In his subsequent 15 years, he has acquired an extensive and diverse repertoire of solo and collaborative works.  At Stetson, Jeremy has participated in nearly every ensemble, from Symphonic Band as pianist and in Chamber Orchestra on harpsichord, to singing in Men's Choir and continuo playing in Opera Theatre; all in addition to his weekly performances as soloist or collaborative artist in Stetson's Student Recitals.  Upon graduation in May 2014 and in preparation for graduate studies in the fall of 2015, Jeremy will continue accompanying and performing on and off the Stetson University campus throughout the 2014-2015 year.
For more information, please call the School of Music Concert Line at (386) 822-8947 or the School of Music at (386) 822-8950; www2.stetson.edu/music.