Stetson named Tree Campus USA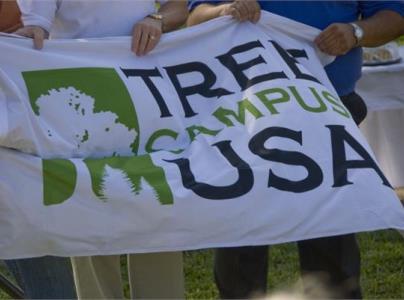 For the third consecutive year in a row the Arbor Day Foundation has named Stetson University a Tree Campus USA in honor of the work it does on campus and Stetson's commitment to supporting a healthy outdoor environment. (Photo, left, provided by Arbor Day Foundation)
Tree Campus USA is a national program that strives to help colleges and universities around the country establish and sustain healthy community forests. Founded in 1972, the Foundation has grown to become the largest nonprofit membership organization dedicated to planting trees, with over one million members, supporters and valued partners.
Stetson achieved the designation by meeting the required five core standards for sustainable campus forestry: a tree advisory committee, a campus tree-care plan, dedicated annual expenditures for its campus tree program, an Arbor Day observance and the sponsorship of student service-learning projects.
"The landscape is much more than a welcome mat for Stetson. It also provides places suitable for informal gatherings, outdoor class sessions, play and quiet reflection," said Cynthia Bennington, Ph.D., professor of biology at Stetson. "Additionally, because the campus landscape is the only part of the university that some local citizens and visitors see, it should be one that reflects the mission and values we promote."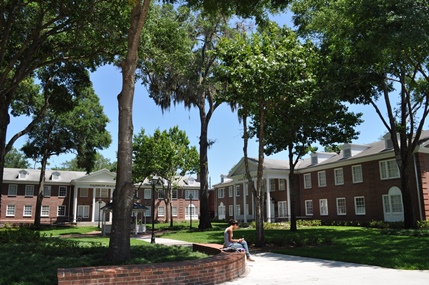 In 2013, more than 75 Stetson students and dozens of community members were engaged in projects on campus related to trees. Most of these took place in the Volusia Sandhill Ecosystem Teaching Landscape adjacent to the Gillespie Museum. Karen Cole, Ph.D., Director of the Gillespie Museum hosted several environmentally-themed Science Saturday events that were led by Stetson students and attended by local families.  In addition, students enrolled in biology, geography, and environmental science courses, worked throughout the year in the sandhill collecting data, planting, mulching and weeding. (A Stetson student, right, studies under the trees outside Carson/Hollis Residence Hall.)
"Students are eager to volunteer in their communities and become better stewards of the environment," said John Rosenow, founder and chief executive of the Arbor Day Foundation. "Participating in Tree Campus USA sets a fine example for other colleges and universities, while helping to create a healthier planet for all of us."
"Tree Campus USA, a national program launched in 2008 by the Arbor Day Foundation and Toyota, honors colleges and universities and their leaders for promoting healthy trees and engaging students and staff in the spirit of conservation," said Mary Sweeney, Program Manager, Arbor Day Foundation.  Through the generous sponsorship of the Arbor Day Foundation and Toyota, campuses throughout the country have been able to plant hundreds of thousands of trees.
By Andy Patel