Stetson presents No Refunds Sketch Show April 24-26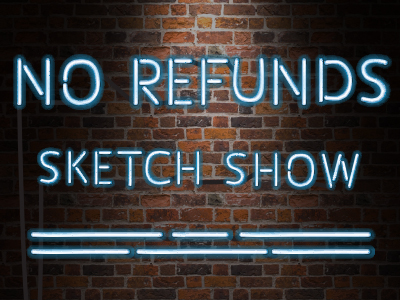 Stetson University presents The No Refunds Sketch Show April 24-26, at 9 p.m., in Stetson Theatre Arts' "Second Stage" located inside the Museum of Art, 600 N. Woodland Blvd., adjacent to the DeLand campus.  
Come see the hilarious antics and intriguing storytelling in this year's brand new and totally unique sketch comedy show!
Stetson's next production, The No Refunds Sketch Show, is bringing a never-before-seen type of comedy to the stage. Drawing on techniques from long-form improvisation, the seven performers will be playing dozens of characters in a wide variety of comedic scenes. But what really sets this show apart is the way the seemingly unrelated sketch comedy scenes come crashing together into a single story, forcing the actors to change characters at a rapid-fire pace—sometimes even playing several parts in the same scene!
"It seems counter-intuitive for improvisers to spend time rehearsing, but indeed they do," said Kevin Kearney, director. "In fact, the seven people in this ensemble have been practicing improv together for over six months."
The actors include: Grace Aguda, Caitlyn Foster, Peter N'yongo, Jacob Manos, Dylan Mullins, Kevin Serrano and Stephanie Wattigny.
"Our style of improvisation, known as "long form," requires the performers to share a language of techniques in order to tell a coherent story without collapsing under the weight of their collective imagination," Kearney explained. "The road to long form improv is littered with abandoned characters and forgotten worlds. Each week's rehearsal births a kaleidoscope of relationships, games, locales, perspectives, themes—and each week that briefly glimpsed universe is discarded to make room for the next. It felt wasteful, so we took a sieve to the rehearsal stage and rescued a few moments. Everything you see in this show was originally improvised by the cast in the previous weeks, though since then we dressed it up a bit with lighting, props, and, well…dresses. Exploring our favorite characters and situations through improv, we were able to organically connect the unrelated scenes into a larger story. This show is a memorial of sorts, giving a handful of orphaned scenes and characters the chance to live again."
Caution Notice: This show is for mature audiences due to the coarse language and sexual content. 
Admission for this performance is $12 for Adults and $10 for seniors and students. (Stetson students, faculty and staff are admitted free with a valid ID.) Tickets will be available at the door and reserved tickets must be picked up 30 minutes prior to the start of the show. Box office will be open one hour prior to curtain. 
For information or reservations, call Stetson Theatre's "Second Stage" box office at (386) 822-8700.