Steve the Lizard: Hatter creativity!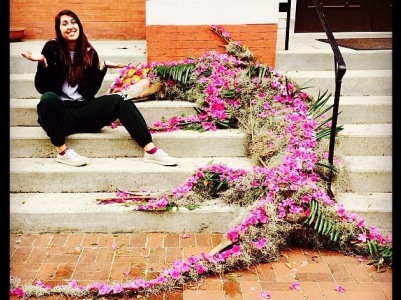 Several weeks ago, Stetson students attending classes in Sampson Hall were greeted by an azalea palm tree lizard chilling on the front steps. The lizard, or "Steve," was the original creation of sophomore art major Danielle Grisham.
Grisham displayed the large eco-friendly lizard originally created for her Mixed Media course. The piece served as a fun environmental memento.
"Honestly, the piece was a monument to all the lizards I've run over on my skateboard," Grisham stated.
Over two hours were dedicated toward creating the piece. Grisham gathered azaleas, Spanish moss, and palm tree boots (or fronds) from trees around Stetson. Working from the ground up, Grisham began sculpting the lizard using the boots first. By 2:30 a.m., "Steve the Lizard" was finally ready for his Hatter debut.
"I've never made one, nor have I done a project like this before," Grisham said. "I was originally going to do two lizards, but my professor convinced me to do one large one."
For the next two days, the piece quickly drew attention from students and even faculty members. Grisham was even caught off guard by the critical acclaim her environmental art piece earned.
"It was made for students, but then attention and praise for the piece got up to the Marketing Department, and even Wendy Libby, etc.," Grisham stated.
In the fun spirit and creativity of her piece, Grisham discussed her future plans for the art world after Stetson. Grisham is interested in using her artistic talents for illustrating children's books. She reflected on her childhood and being influenced by the world around her.
"As a kid, I remember always illustrating stuff that I found anywhere," Grisham said.
"Steve" was on display for two days before being taken down by landscapers. But Grisham's piece remains a fond memory of the interactive creativity that is vibrant in the Stetson community.
By Maurie Murray