Student Directed One-Act Plays open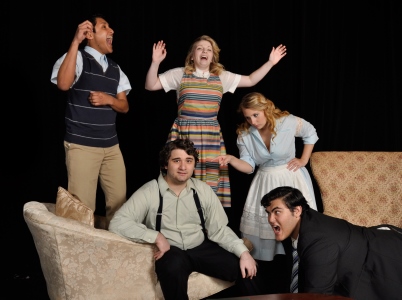 Stetson University's Student Directed One-Act Play Festival begins Thursday, April 10, and runs through Sunday, April 13, in Stetson Theatre Arts' "Second Stage" located inside the Museum of Art, 600 N. Woodland Blvd., adjacent to the DeLand campus.
A potpourri of short plays, infused with that special energy that comes from students working together, the  Student Directed One-Act Play Festival is comprised of the following six short plays, listed below with the names of the Stetson student directors:
1-900-Desperate by Chris Durang, directed by Rachel Markunas
Philip Glass Buys A Loaf of Bread by David Ives, directed by Drew Neitzey
Sure Thing by David Ives, directed by Kristina Ramos
Family 2.0 by Walter Wykes, directed by Stephanie Wattigny (pictured left)
The Restaurant by Dan Greensburg, directed by Caron Davis
Mint Juleps by James Pinkowski, directed by Jacob Manos (photo, right).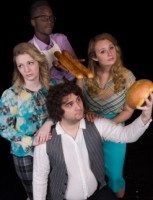 In 1-900-Desperate, a desperate single woman, Gretchen, calls 1-900-Desperate in the hopes of finding a man. Instead, she meets an even more desperate woman, a feminist, a self-proclaimed womanizer, and a little boy.
Philip Glass Buys A Loaf of Bread (right) is about a classical composer, Philip Glass, who enters a bakery to buy a loaf of bread. Soon after he orders his bread, he experiences a musical existential crisis that is reminiscent of Glass' work.
Sure Thing (below, left) is a comedy that brings together two very unlikely characters in an outdoor, cozy café. Throughout trial and error, and with a little help from fate, Bill and Betty go from strangers to something more.
Family 2.0 is about a family whose lives become turned upside down. In this bizarre comedy, a complete stranger walks into a 1950s household and insists on becoming the new husband. When the old husband comes home and sees what has happened, he pleads for his family to take him back, even if he has to be the family dog.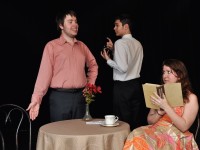 The Restaurant (below, right) is about a couple on vacation in which they stumble across a strange restaurant. A pleasant day takes an unexpected turn for the worst .
Mint Juleps is about two lifelong friends who meet for tea in an out-of-the-way café. Through a cryptic exchange, they uncover personal mysteries and secrets that time has buried in their irretrievable past. (Pictured above, l to r: Roxy Ghamgosarnia, Peter Nyong'o, Jr., and Amie Vaughan.)
The six plays are acted by a company of performers: Nick Bouwmans, Thomas Ecker, Aimee Foster, Luis Garcia, Roxy Ghamgosarnia, Jonathan Greer, Olivia Moeschet, Dylan Mullins, Marcia Myers, Peter N'yong'o Jr., Megan Ryan, Preston Stanger, Aimee Vaughn, and Samantha Williams.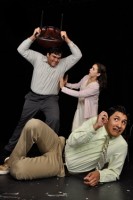 The showtimes are: 8 p.m., Thursday through Saturday, April 10-12. On Sunday, April 13, the show starts at 3 p.m.
Stetson students, faculty and staff are admitted free with a valid ID. Tickets will be available at the door and reserved tickets must be picked up 30 minutes prior to the start of the show. Box office will be open one hour prior to curtain. 
For information or reservations, call Stetson Theatre's "Second Stage" box office at (386) 822-8700. Visit Stetson's Creative Arts Department for more information.