Lifelong Learning Series unifies members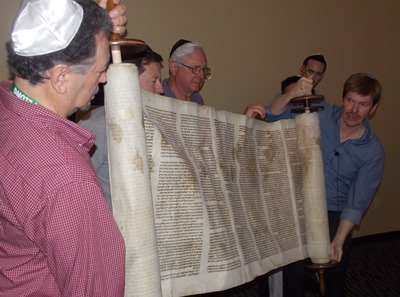 Stetson's Lifelong Learning program hosted the third of our Lifelong Learning Summer Lecture Series. The featured guest speaker on June 18 was  featured Dr. Ken Hanson (pictured far right), associate professor at the University of Central Florida in Judaic Studies, presenting "Why Judaism, Christianity and Islam?" This was a dynamic presentation with insightful vision depicting the commonalities of the three faiths, and gave specific distinctions with sage wisdom and wry humor. Hanson captivated and inspired those who were witness to his 90-foot unrolled Torah Scroll from antiquity recoveries of the Holocaust ruin in Eastern Europe.
The audience was made up of religious and non-religious practitioners alike; all listened intently as Hanson explored the beginnings and core of each of the religions.
"The connections and distinctions Dr. Hanson made among the three major Western religions were fascinating and enlightening," said Don Salvo, Lifelong Learning member.
Hanson's lecture style takes his audience to a fun and playful arena yet holds strong to theoretical view points and research-based dialogue. He showed that a powerful, just and loving God can even be fun. Holding the unraveled Torah in many, many audience hands, was a strong and unifying experience.
With a Ph.D. in Judaic Studies from the University of Texas at Austin, Hanson has published five books, including: Dead Sea Scrolls: The Untold Story (San Francisco, Council Oak Books, 1997); Kabbalah: Three Thousand Years of Mystic Tradition (San Francisco, Council Oak Books, 1998); Words of Light: Spiritual Wisdom from the Dead Sea Scrolls (San Francisco, Council Oak Books, 2000); Secrets from the Lost Bible (San Francisco, Council Oak Books, 2005); and Blood Kin of Jesus (San Francisco, Council Oak Books, 2010). His research was featured in the 2007 History Channel documentary, "Banned from the Bible II."
For further information about Stetson's Lifelong Learning program, contact Toni Castillo, director of Stetson's Center at Celebration, at (386) 822-7617.
by Toni Castillo
Director, Stetson University Center at Celebration