Art Exhibit Explores the Experience of Illness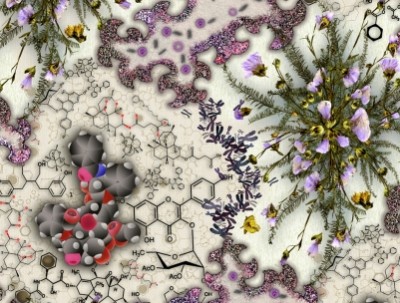 The opening reception for the fall 2014 art exhibitions, The Waiting Room: Lost and Found, and Oscar Bluemner's America: New England Images, both running from Sept. 5 through Dec. 5, will be held from 6-8 p.m. on Friday, Sept. 5 at the Hand Art Center.
Open to the public and free of charge, the Homer and Dolly Hand Art Center is located in Stetson's Palm Court, at 138 Michigan Ave. Hand Art Center is open Monday through Friday from 11 a.m. to 4 p.m., and now Saturdays, from noon to 4 p.m.
The Waiting Room: Lost and Found is a unique exhibition featuring works by four artists: Marguerite Perret, Bruce Scherting, Stephanie Lanter, and Robin Lasser.
The waiting room—a place where patients are processed before testing, diagnosis, consultation, and treatment—is used as a conceptual framework, presenting a number of tableaux that express the experience of a particular illness, acting as therapeutic creativity for patients and artists.
Taxus Swatch, featured top left: Ornamental upholstery used in the BC tableau that was created from breast cancer cells from pathology slides and specimens of pacific yew plant, source of chemotherapy drug paclitaxel (taxol). It also includes preventative purple flowers from common flax plant lignans (estrogen-like antioxidants); taxol molecules; and other plant-based compounds currently used or researched for breast-cancer treatment. BC-Full Side is featured below, right.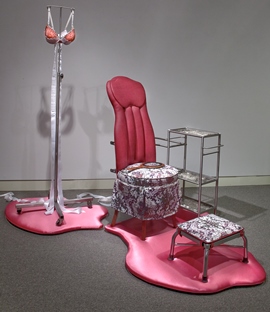 "All four artists worked together to make these tableaux," explained Tonya Curran, director of the Hand Art Center. "Each one explores an illness, such as breast cancer, anorexia, depression, and dementia, and also domestic abuse.
"One thing that is unique about this exhibit," continued Curran, "is that it's interactive. Usually at a museum, you're not allowed to touch anything, but here—using audio, visuals, and more, you can actually participate in the exhibit."
To connect the exhibit to the community on a personal level, the Hand Art Center has partnered with the Counseling Center at Stetson.
"They've made business cards for us," said Curran. "So if anything strikes a nerve, say, for example, if a student's mother has breast cancer and it's really stressful, then that student can pick up one of the cards around the exhibit and they can go to the Counseling Center and get counseling for free. We want to do everything we can to help."
This month marks Curran's first anniversary as director of the Hand Art Center, and she has much more planned for the future.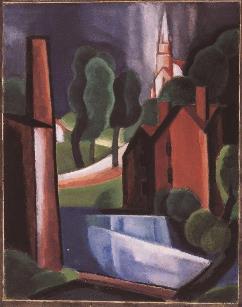 "In the spring we're going to have a Folk Art show," Curran said enthusiastically. "I want to do some more installation projects, community building art projects, and more experimental things, too. Overall, I want diversity across disciplines and cultures. I want to approach subjects that can create dialogue, because, as a university, we should be doing things that challenge people to think. And in doing so, I want the Hand Art Center to be a place where everyone can feel inclusive and take something away from their visit. We need to give people the ability to connect with art."
For more information, contact Tonya Curran, director of the Hand Art Center at [email protected], or call (386) 822-7271. Visit Stetson's Creative Arts website for more information on Stetson's programs in art, theater arts, digital arts and humanities, or email Creative Arts @ Stetson University. All art exhibitions are also posted on Stetson's online calendar found on Stetson Today.
By George Salis
Oscar Bluemner's painting, part of his New England Images series, featured left, is entitled Laconia, New Hampshire (1931).