Stetson Ranks High on List of Best Colleges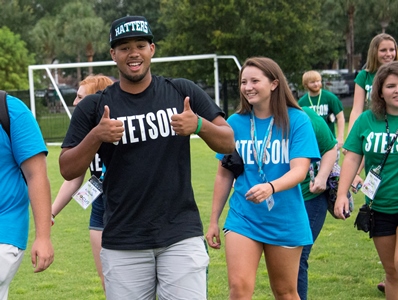 Stetson only Florida school on U.S. News list for best undergraduate teaching
Once again, Stetson University has earned national recognition for its attention to challenging academics and commitment to community service by ranking among the top universities in national surveys.
U.S. News' 2015 edition of "Best Colleges" ranked Stetson sixth in its Best Regional Universities (South), and sixth on the list of Best Value — Regional Universities (South). Stetson is the only school in Florida — and one of only four institutions in the South — to make the Best Undergraduate Teaching — Regional Universities (South) list. Although the average high school GPA for incoming freshmen at Stetson is 3.9, Stetson was also recognized by U.S. News for encouraging "B" students to apply saying, "spirit and hard work could make all the difference…."
"The Stetson community embraces the transformational power of learning that is both rigorous and collaborative," said Beth Paul, Ph.D., provost at Stetson University. "Our undergraduates – indeed, all of our students – benefit from working side-by-side with accomplished teacher-scholar faculty who are dedicated deeply to the love of learning."
Washington Monthly's 2014 Master's Universities list places Stetson at 12 (out of 671 schools), and its Best Bang for the Buck list puts Stetson at 120 with a net price of $18,901 and 38 percent of students receiving Pell Grants. Schools are rated based on their contribution to the public good in three broad categories: social mobility (recruiting and graduating low-income students), research (producing cutting-edge scholarship and Ph.D.s), and service (encouraging students to give something back to their country). These categories are in line with Stetson's recruitment and support of students who often do not have access to private higher education.
"Stetson's personalized approach to an ambitious academic learning experience incorporates top quality faculty with a focus on learning outcomes," said Stetson President Wendy B. Libby, Ph.D. "We are proud to be recognized as an institution that places a high value on global citizenship, personal growth and social responsibility. Stetson dares its students to become significant in their communities, the nation and the world, and they are up to the task."
Stetson emphasizes active learning with a low student/teacher ratio of 12:1, and 57 percent of classes have fewer than 20 students. A key factor leading to a top ranking is the academic quality of Stetson students: 61 percent of students finished in the top 25 percent of their high school graduating class. Stetson's undergraduate enrollment this year is 2,841, a 4.1 percent increase over 2013 enrollment, and 12.9 percent higher than 2012. Since fall of 2013, Stetson has hired 60 new, full-time faculty members to ensure its low student/teacher ratio.