Distinguished Alum speaks to Lifelong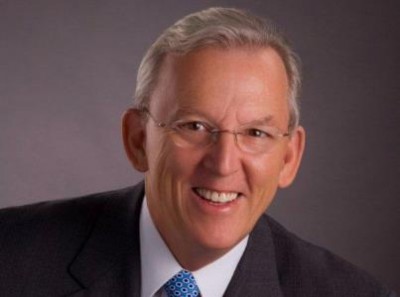 Weather has been studied since Aristotle wrote his famous, "Meteorologica" over 2,000 years ago.
In spite of this, the average person in our information age does not know how to record a daily temperature or how it is used to determine tomorrow's weather. The impact of weather on every level of society is good and bad. Learning where to find the important weather data and how to apply it could help save a life or property.
On Wednesday, Sept. 17, Stetson University's Lifelong Learning program welcomed Dave Marsh '75, former Chief Meteorologist at WESH-2 News, to speak on Weather: The Universal Topic of Discussion that Nobody Understands. He attracted more than 50 members of Lifelong Learning at the Celebration Center.
Marsh began his weather forecasting career with the United States Navy during the Vietnam War. He spent two years at the Sanford, Fla. Naval Air Station and finished his tour with the Fleet Weather Central on Kodiak Island, Alaska. After the Navy he worked at the National Center for Environmental Prediction in Washington, D.C., followed by a 38-year career as Chief Meteorologist for the NBC television affiliate in Orlando.
Marsh's Navy duty included forecasting for aircraft and ships headed to Southeast Asia, the Arctic missile defense system known as the Dew Line, ice charting over the Arctic, and Coast Guard rescue operations in the North Pacific. His 50-year career as a weather forecaster also included forecasting more than 300 hurricanes.
Marsh is a Member Emeritus of the American Meteorological Society, was recognized by Daytona State College with the Crumley Award for his contributions to the field of science, received the National Weather Service's Public Service Award, and is a member of Stetson University's Distinguished Alumni.
For more information about Stetson's Lifelong Learning Program, contact Toni Castillo, director of Stetson University Celebration Center, at [email protected]
by Toni Castillo