Hatters 1st home-opener Saturday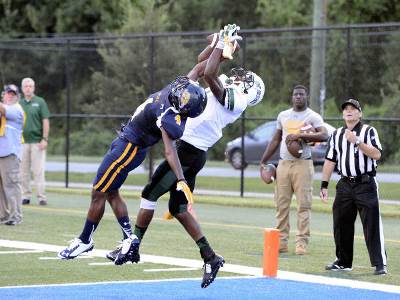 The Hatters will play their 2014 home-opener this Saturday, Sept. 6, at 7 p.m. against Florida Tech at Spec Martin Memorial Stadium.
Several members of the Stetson football team were recognized this week for their performances during the Hatters' 35-16 victory over Warner last weekend. (Photo, right: Chris Crawford scores against Warner. Photo by David S. Williams)
Defensive back Donald Payne was selected as the Pioneer Football League Defensive Player of the Week for the third time in his career. Against Warner, he scooped up a blocked punt and returned it 25 yards for a touchdown and also recorded his third career interception.
Payne was also named the PFL Defensive Player of the Week by collegesportsmadness.com.
Besides Payne, kicker Grant Amick was named the PFL Special Teams Player of the Week. Against Warner, Amick connected on a pair of field goals, including one from a school record 48 yards. He also averaged 54 yards on five kickoffs and connected on both of his PAT kicks.
In addition to the PFL honors, the Stetson coaches recognized six players for their contributions last week.
Receiver Chris Crawford was named the teams' offensive player of the week following his five-reception performance against Warner. He totaled 72 yards through the air and scored the Hatters' first offensive touchdown on a high-flying 19-yard pass from Ryan Tentler.
Defensive end Davion Belk was selected as the teams' defensive player of the week. Belk was credited with five total tackles, had a share of a tackle for loss and had three quarterback hurries.
Safety Ryan Powers was the team special teams player of the week. Powers finished with four tackles overall, blocked a punt and forced another bad punt, both of which led to Stetson scores.
Defensive back Jeb Boudreaux was given the Big Hit Award for the week for a block he delivered on a punt return late in the game.
Two players were also recognized as the Scout Team players of the week for their efforts in helping the team prepare for the game with Warner. Those two players were freshman running back Devin Gillotte and sophomore linebacker Dylan Wydronkowski.
Fans who have not yet purchased tickets for the 2014 season still have time to do so. In fact, the Stetson Athletics Ticket Office is running a special flash sale on tickets to the home opener against Florida Tech. Tickets in the West Reserved area of Spec Martin Stadium are being reduced to $25, East Reserved tickets to $20 and General Admission tickets to $10.
This ticket special is good only for online purchases by following the link HERE. Use the promo code WEEKEND14.
Season tickets for the entire six game home season are also available for as little as $90 and there also mini packs that group the four night games into one package for as little as $66 and two game packs that pair the homecoming game against Marist on Nov. 8 with any of the other five games for as little as $44.
Visit the Stetson Athletics Ticket office, located in the Edmunds Center on Pennsylvania Ave., or call 386-738-HATS to place your ticket order. The ticket office is open daily from 9 a.m. until 4 p.m. Orders can also be placed online at GoHatters.com/tix or by e-mailing [email protected].
GO HATTERS!