Student uncovers historical mysteries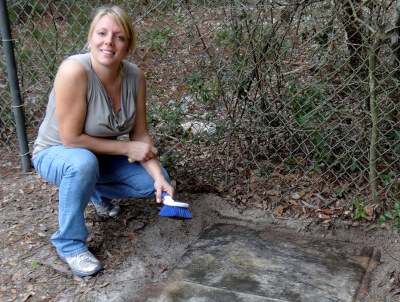 Kimberly Reading (pictured left), senior American studies major and environmental science minor, is a non-traditional student who had the opportunity to intern for the West Volusia Preservation Society documenting lost or neglected cemeteries and their mysteries.
The internship involved having a hands-on experience recording the obscurities of the cemeteries that were lost in the woods. Reading's tasks were to locate the cemeteries through local history books, local settlements, and gathering clues from the locals themselves, uncovering headstones, connecting the dots, and recording the names. "The cemeteries were listed in an inventory way; for example, by ownership, kind of community, settlement group, the condition of the site, ownership, and activity," Reading said.
"This internship opportunity was not available for Stetson students," she said, "so I made my way around meeting people and figuring out how to get involved in the preservation society and that is how I met Julia Schofield." Schofield is the head historic preservation officer for Volusia County who offered the internship position to Reading after discovering Reading's passion for her local community and promoting the knowledge it holds within its ambiguities. Schofield led Reading and a University of Central Florida junior in the mission of recovering history within the cemeteries for county resources and historical/anthropological evidence.
The history and environmental preservation has always been important to Reading's life. "I took a walking tour in fourth grade around the historic district and that's where it all started. It inspired me. I want to do that for other children so they can learn to appreciate our history and preserve the environment and cultural landscape."
Reading's goal after Stetson includes proposing a foundation or environmental resource center used as an educational building. "Orange County as well as Volusia need an economic boost. I want to use what I learn here to make these counties better for everyone else," said Reading.
Reading has a deep connection with Stetson's roots: she grew up in DeLand, attended DeLand High School, and even her great grandmother's siblings attended Stetson when it was Stetson Academy. "I feel really connected to the structures on campus, specifically Elizabeth Hall and DeLand Hall," she said. Reading also has a work study in the duPont-Ball Library Archives doing her part to preserve Stetson's history.
With two sons and a husband, Reading proved to be an impressive student winning the 'Outstanding Junior of the Year' award from the American Studies Department for the 2013-2014 school year. As a senior, she continues impressing her professors with her contributions to the community and the environment. "The greatest part about being at Stetson is that I get to focus on improving the community," she said.
By Grace Aguda