Stetson presents Shakespeare's "Measure for Measure"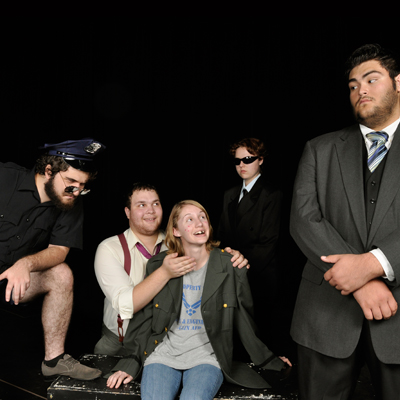 Stetson University presents Measure for Measure, a play by William Shakespeare, Nov. 13-15 at 8 p.m., and Sunday, Nov. 16 at 3 p.m., in Stetson Theatre Arts' "Second Stage" located inside the Museum of Art, 600 N. Woodland Blvd., adjacent to the DeLand campus. The play is directed by Ken McCoy, Ph.D., professor of theatre arts, and features many students in lead roles.
Measure for Measure retains a powerful hold on the imaginations of modern audiences due to the ways that the seventeenth-century issues relate to present-day concerns, and to its resistance to easy categorizations in Shakespeare's canon of plays.
"Measure for Measure is formally a comedy, with a happy ending where people get married, and with many laughs along the way," said McCoy. "But at the core of the story is a sexual situation that goes so far that calling it sexual harassment barely scratches the surface."
Measure for Measure begins in a straightforward manner. The Duke of Vienna has let law enforcement lapse in certain "sinful" areas, like drinking, prostitution and sex outside of marriage. Since he would prefer to be remembered as a kind Duke, he appoints Angelo, a man with a solid reputation to enforce the old harsh laws while he disguises himself as a friar to monitor the situation. The plot thickens when young Claudio gets his fiancée, Juliet, pregnant before they are married, and the punishment for his crime is beheading. When his lovely sister Isabella, who is on the verge of becoming a nun, tries to change Angelo's mind, he offers her a bargain—sleep with him and he will let Claudio go free.
The rest is a compelling tale of sexual intrigue, scandal, and retribution, seasoned with scenes of comic relief. Shakespeare uses disguise, buffoonery and mercy measured against overzealous judgment, deceit and desire to bring the intricate tale to a happy yet ironic ending.
"I don't think anyone will have any problem relating to this play," McCoy explains. "The issues in it are still in play today, and to enhance these modern connections, we have set the play in more or less a modern environment. We have also cast a woman as the Duke in order to make further connections with today's current event."
Extremely comic and strangely tender, Measure for Measure is one of Shakespeare's most powerful plays.
The cast features Nicholas Bowmans as Angelo; Ellen Smittle as Isabella; Justin Corriss as Claudio; Mimi Shimkovska as Juliet; and Amie Vaughan as the Duke. Also featured are: Christian Capra, Allie Champagne, Erin Foster, Kitty Geoghan, Roxy Ghamgosarnia, Ashley Johnson, Rachel Markunas, Dylan Mullins, Drew Neitzey, Caitlin Prestridge, Kristina Ramos, Austin Scott, Robert Spellman, Stephanie Wattigny, Emma Boswell, and Sara Wilmoth.
Admission for this performance is $12 for Adults and $10 for seniors and students. (Stetson students, faculty and staff are admitted free with a valid ID.) Special rates are available for large groups. Tickets will be available at the door and reserved tickets must be picked up 30 minutes prior to the start of the show. Box office will be open one hour prior to curtain.
For information or reservations, call Stetson Theatre's "Second Stage" box office at (386) 822-8700. Visit Stetson's Creative Arts Department website for more information. (Pictured: Pompey and his little buddy Froth spin a tale to stay out of prison. Left to right: Dylan Mullins, Austin Scott, Caitlin Prestridge, Kitty Geoghan, Nicholas Bouwmans. Photo by Ken McCoy.)
By Grace Aguda