October Student Athlete of the Month: Donald Payne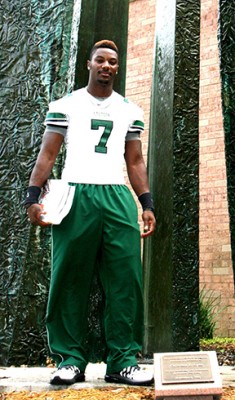 Even if you aren't a diehard Hatter football fan, odds are you have heard the name Donald Payne. One of four team captains chosen by his teammates for 2014, Payne returns as the 2013 Pioneer Football League Defensive Freshman of the Year and a first team All-Conference selection. He also received national recognition as a finalist for the Jerry Rice Award, which goes to the national Freshman of the Year as well as being named to the College Sports Journal Freshman All-America team. The list of his athletic accomplishments in just two seasons goes on and on. What you may not know about Donald, however, is that he is just as successful off the field.
Donald gets his fair share of (well-deserved) attention from his athletic accomplishments, but what many people may not know about Donald is that he is a star in the classroom as well. As a Finance major, he currently holds a 3.58 in the School of Business and a 3.409 cumulative GPA.
"I was drawn to Finance because I love numbers," said Payne. "I'm an organized person, and this has helped me both in Football and in my studies. I would like to be a Financial Manager one day, so my job would essentially reading numbers and helping others interpret what they mean".
Dr. Louis Paris, assistant professor in the Department of International Business, described Donald as a reserved but natural leader. "Donald is quiet. But after seeing his work, I knew I had someone special, his performance spoke for itself," said Paris. "When he did speak, [his classmates] listened. They paid attention to what he said." Dr. Bonnie Holloway, a visiting lecturer in the Department of Accounting, identified the natural link between finance and football. "The discipline required in athletics absolutely carries over to classwork. Athletes understand that to get better at something, you have to practice it. They understand what it means to put in the work."
Head Football Coach Roger Hughes noted that Donald, like many football players, have pleasantly surprised the Stetson faculty. "Obviously, there was concern that the addition of a football program would mean we would have to sacrifice some of our academic ideals," said Hughes. "But I think the professors often find that our players are some of their best students. Hughes continued, ["Donald] is the epitome of we look for. The person that fits well here has to be someone blessed with two gifts. They have to want to be challenged both as a student and as an athlete."
Donald will be the first to admit the balancing act was an acquired skill. But to him, the sacrifice comes with a much greater reward. "To me, being a student-athlete at Stetson is a source of pride. I know that people understand that what we do is not easy. We have to work hard to find the right balance and be successful, and the Stetson community recognizes what we go through. I'm very proud to be a Hatter."
by Sarah Frohnapfel