Stetson Today Gets a Makeover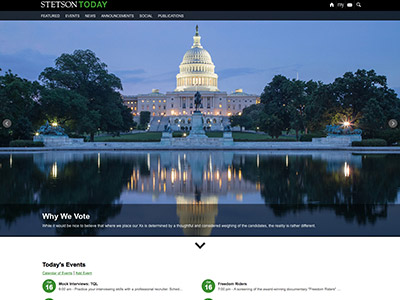 Stetson Today will have a new look beginning Monday, Oct. 20, that will make it more user-friendly on a mobile platform. Another change is the feature section at the top of the page and a refreshed overall look of the site.
First launched on Feb. 29, 2012, Stetson Today is for students (current and future), parents, local community, news organizations (national and local), faculty, staff and alumni. Each audience is looking for different information and the new format takes advantage of available technologies to provide a venue for everyone to easily find and use it.
To redesign the site audience segment needs were taken into consideration along with industry research and best practices. More than a news site, it is a single point of contact for events, images, stories, news and announcements.
"Our hope for the new Stetson Today is to give voice to our shared story of significance and to make that voice heard above the crowd," said Joel E. Jones, assistant vice president of University Marketing, and designer of the site. "Stetson has a significant story to tell which involves innovation and achievement. Ideas meet opportunity at Stetson, and possibility connects with the power of human potential to make a positive impact in the world."
Now that Stetson Today is a successful mode of communication to the internal community, the goal is to broaden its day-to-day reach outside of this community to promote Stetson to a much wider audience. Adding features on topics of national interest will enhance the professionalism of the site, and enable media in other markets to become aware of Stetson spokespersons and their expertise on various topics.
"Because people are getting their information and news more and more from online sources," said Jones, "we plan to be more accessible and share information in a more timely manner, especially via mobile devices."
The redesign of Stetson Today will provide a platform to display photos and videos of current events, academic programs and campus life. It will give more visibility to academic initiatives, departments and programs, faculty and students. It presents the opportunity for greater outreach to a national audience and national media, and should help keep Stetson high on search engine rankings. Readers will have the opportunity to subscribe to RSS feeds for topics they're interested in specifically.