Three Brothers: Prestigious Tenors at Stetson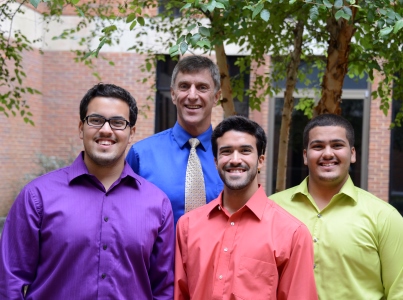 A legacy of three talented and prestigious brothers has been developing at Stetson University, ever since oldest brother, Brian Rodriguez '15, Music with Outside Field Business major, joined Stetson. Afterward, Brian's two younger brothers also chose Stetson: Manuel (Manny) Rodriguez '16, Finance major and Vocal Music Minor, and Michael Rodriguez '17, Vocal Performance and Mathematics major. All three brothers are tenors and active in Stetson's School of Music. (Pictured left to right, with Dr. Craig Maddox in the back: Manny, Brian and Michael.)
"Stetson was the perfect match," said Brian. "It was full of potential. It had a nurturing and intimate atmosphere and many challenges to be met with endless possibilities. Plus, it was only four and a half hours from my home in Miami. Everything just seemed right."
Now in his senior year, Brian boasts a 3.804 GPA. Some of his credentials include: Harold Giffin Voice Scholar; a member of two honor societies, Phi Eta Sigma, Omicron Delta Kappa; a brother in Phi Mu Alpha Sinfonia, having held executive positions as Secretary and Vice President and is currently a Treasurer; Secretary for the ACDA; first place winner in Southeastern National Association of Teachers of Singing Regional Auditions '13 and '14; principal roles with the Stetson Opera Theater; soloist with Stetson's Concert Choir and Choral Union.
"My experience thus far has been nothing short of fantastic," explained Brian. "I've made the greatest of friends, memories that are sure to last a lifetime, and surpassed my own expectations of the college experience. The Stetson music program has instilled discipline, responsibility, and a sense of comradeship over the course of the past three years. I always feel challenged and encouraged to surpass my musical and personal goals. Bringing joy to others through the gift of music fulfills me, watching people shed tears or smile because of music has fueled my drive for success."
Manuel currently boasts a 3.98 GPA. He is a member of two honor societies; a brother in Phi Mu Alpha Sinfonia; the tenor for the University Chapel Singers; and participates in the Stetson Opera Theater; first place winner of Southeastern National Association of Teachers of Singing Auditions '14 and second place winner of NATS '13; and worked with Nordstrom Home Décor Department in summer '14.
"The instructors from the School of Music expressed their desire to have me here at Stetson," said Manuel. "I'm valued here as more than just a number. They make me feel wanted. So far, I've learned plenty about music and business, but, more importantly, I've learned about myself: what I want to do for a living, what morals I feel are worth sticking to, which philosophies have withstood the challenging ideas presented in a liberal arts atmosphere, and how to distinguish between friends and acquaintances."
Michael, beginning his first year at Stetson, was very active at Coral Reef high school. He was the student director of his high school's End of the Year spring concert; participated in the All State Reading Choir for four years; president of the Tri-M Honor Society; and had lead roles in his high school's opera productions.
"After spending their whole lives together," said Michael, "most siblings would cringe at the thought of attending the same university. But, since we all have a mutual love for music, I never feel more complete than I do while singing a trio alongside my two brothers.  We are always there to support each other."
"Having my brothers here is like having a piece of home away from home," added Manuel. "This is a legacy in the making and I feel confident in saying that we would like to make attending Stetson a family tradition."
All three brothers are students of associate professor of music Dr. Craig Maddox, D.M.
"I've been at Stetson for 30 years," said Maddox, "and this is the first time I've heard of three brothers being here at the same time—let alone all singers, and all three of them tenors! I'm just getting to know Michael, since he's a freshman, but I've met him a number of times when he came up with his parents to see his older brothers perform. Michael also was here this summer for Stetson's inaugural Choral/Vocal Camp.  I was able to work with him during the camp."
"All three of these young men are top-quality talents and top-quality people," Maddox said. "In fact, the whole family is a delight. They are everything I value in a family. They show genuine love and support for each other on so many levels. Simply put, they are three of the nicest, smartest, and most talented kids I've ever had the pleasure to teach. It has been, and continues to be, a privilege to know and work with them."
"Working with Dr. Maddox is an honor and a privilege," said Manuel. "As a father and family man, he is very supportive, understanding, and loving. He teaches us as students, but cares for us as if we were his own. We are all in good hands and are very grateful to have the guidance of such a wonderful mentor and friend."
by George Salis