'Voyager' performed by Orchestra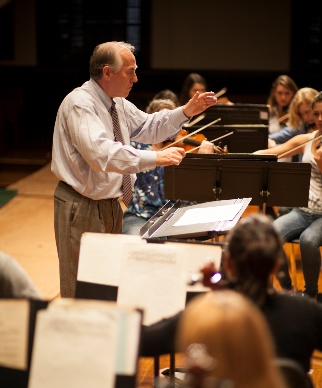 "Like all boys growing up in the early sixties, I was fascinated by space exploration," Anthony Hose, conductor of the Stetson University Symphony Orchestra, writes. "I watched all of the films made by the Americans and Russians showing first satellites, then animals and finally astronauts being catapulted into the cosmos. And, of course, I wanted to be an astronaut! … But the most incredible journey taken by mankind is unmanned and is so long that it actually has no end."
Two space crafts named Voyager 1 and 2 were launched in 1977 to undertake a "grand tour" of the solar system, Hose explains. Although both Voyager craft were expected to last just four years, 37 years later they are still working and sending back information for scientists to research and all mankind to fathom.
Friday night, Oct. 24, at 7:30 p.m., Hose will conduct the Stetson University Symphony Orchestra performing the American premiere of Voyager written by Warren Greveson for four iPads and orchestra, with film by Maurice Lock. Both Greveson and Lock will be at this performance and will help introduce this unique production.
"This piece of music has been inspired by the sights that these spacecraft, now at the edge of our solar system, have seen," Hose said. Lock was able to access high resolution images available from NASA, including archival images from the Voyager Program.
Hear the full inteview with Anthony Hose, Warren Greveson and Maurice Lock on StetsonBlogTalkRadio.
The concert, in Lee Chapel inside Elizabeth Hall, 421 N. Woodland Blvd., will also include Igor Stravinsky's iconic ballet suite, The Firebird, and Petite Suite de Concert by Samuel Coleridge-Taylor.
Hose studied at the Royal College of Music in London and with Rafael Kubelik in Munich. He works with many orchestras throughout Europe including the Berlin Symphony, Budapest Concert Orchestra, the Icelandic Symphony, the Rhine Philharmonic, the Munich Bach Collegium and the Orchestre de la Suisse Romande, and in Britain with the London Philharmonic, the Royal Philharmonic, English Chamber and Welsh Chamber Orchestra of which he is principal conductor. He has conducted many opera productions in opera houses throughout Europe, as well as many opera productions broadcast on BBC Television. He was a professor at both the Royal College and the Royal Academy of Music before moving to Florida, and was appointed orchestra conductor of Stetson University in the fall of 2000. Hose serves as artistic director of the Beaumaris Festival in Wales, which is where he met both Greveson and Lock. Hose plans to take the Stetson Chamber Orchestra to perform at the Beaumaris Festival in the near future.
Composer Warren Greveson is a composer and producer of electronic music, based in Beaumaris, Anglesey, United Kingdom. He has written and produced music for the BBC, ITV, Discovery and the Children's Channel. As a founding member of the eclectic electronic jazz orchestra Zyklus, also featured in an hour-long BBC broadcast, he has appeared at places such as the Royal Festival Hall, Purcell Room and Barbican Centre. In addition to the original Voyager album, new album, Songs From The Grand Massif, completed earlier this year, are both widely available. He is currently working on a live looping project with violinist Billy Thompson and Maurice Lock under the name Dolennu.
Maurice Lock retired as head of the School of Biological Sciences at Bangor University in 2007, and began his next career in Art and Design at Coleg Menai, Bangor. He completed his degree in Fine Art in 2012. Throughout this period he has worked extensively with video, either on its own or incorporated into sculptural objects. He leaped at the opportunity to provide a visual background to Voyager.
Tickets prices are: Adults – $10; Seniors (62 and older) – $8; area students – $5. Complimentary admission with Stetson ID. For further information, call 386-822-8950, or visit www2.stetson.edu/music.