Florida Campus Compact recognizes Stetson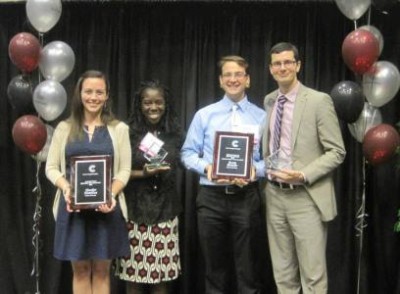 Four distinguished members of the Stetson University community have received top state awards from the Florida Campus Compact at the Annual Awards Gala held on Oct. 15. Keynote speaker for this year's gala, held at the University of North Florida campus, was Dr. Andrew Seligsohn, newly elected national president of Campus Compact.
Heather Hamilton, pictured far left, has been selected as the AmeriCorps VISTA member of the year for the entire state of Florida for demonstrating great success in addressing the needs of low-income individuals and underserved communities. Hamilton has served as an AmeriCorps VISTA at Stetson University for the past two years and has focused on building and sustaining community partnerships, while advising many student leaders and student service organizations.
Kevin Berstler, pictured second from right, currently a senior Spanish major at Stetson University, received the Student Excellence in Service Award among independent colleges and universities in Florida. Kevin has dedicated much of his time toward linking his academic work with his passion for reducing poverty locally, nationally, and globally. Kevin has completed two AmeriCorps terms in the past two years logging over 1142 hours of service mentoring and tutoring youth and adults that have English as their second language and developing a local community garden at Pierson Elementary School, located just north of DeLand. He is also the current president of the Oxfam Club at Stetson University.
Kou Sua, pictured second from left, a junior Spanish major, was named a Campus Compact Newman Civic Fellows, representing the state of Florida.
Kevin Winchell, pictured far right, assistant director of Community Engagement, won the Above and Beyond Award.
All the award winners are listed on the Florida Campus Compact website.