Former Hatter Corey Kluber Named AL Cy Young Winner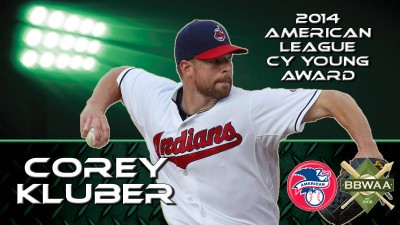 Former Stetson Hatter Corey Kluber capped his great season as a member of the Cleveland Indians by being selected as the American League Cy Young Award winner. The award was announced live on the MLB Network on Wednesday night.
Kluber, who played for the Hatters from 2005-07, completed his first full season in the big leagues with an 18-9 record and 2.44 ERA in 34 starts. His 235.2 innings of work this summer ranked third in the American League. He tied for the league lead in wins and was second in strikeouts with 269.
Kluber was recently inducted into the Stetson Athletics Hall of Fame for his collegiate career. During his three seasons with the Hatters he posted a 20-9 record in 32 starts. His 20 wins are tied for second in school history.
He downplayed winning personal awards when he was in DeLand last weekend.
"I don't try to set personal goals for myself," Kluber said. "I focus on the big picture, on improving. I don't look at the numbers, because that becomes counter-productive. I just try to get my work in and try to get better every day."
He was inducted into the Stetson Athletics Hall of Fame along with former teammate, and current Atlanta Braves third baseman, Chris Johnson. He said that seeing other former Hatters succeed in the big leagues is fun.
"It is pretty cool that we have three guys in the Majors right now," Kluber said. "CJ and I played together for two years and that is pretty cool. I never got a chance to play with Jacob but to have three guys from our school all playing is cool. We see each other from time-to-time and it is always good to catch up."
In addition to his career record, Kluber posted a 3.30 career ERA with the Hatters and recorded 214 strikeouts in 231.2 innings of work. He capped his Stetson career in 2007 by earning Atlantic Sun Conference Pitcher of the Year honors in addition to being a second team All-American.
Kluber was selected by the San Diego Padres in the fourth round of the 2007 MLB Draft, but was traded to Cleveland in July of 2010. He made his MLB debut on Sept. 1, 2011.
With his win of the Cy Young Award, combined with Jacob deGrom's win of the National League Rookie of the Year award, the Stetson baseball program is just the second collegiate program to ever have two former players win a Major League Baseball post-season award in the same year.
In 1975, Fred Lynn of the Boston Red Sox took home the American League Rookie of the Year and Most Valuable Player awards while Tom Seaver of the New York Mets won the National League Cy Young award. Both Lynn and Seaver played collegiately at Southern California.
Kluber edged out former AL Cy Young winner Felix Hernandez and former Florida Gulf Coast star Chris Sale for the 2014 honor. Kluber collected 17 first place votes as compared to 13 for Hernandez. Overall, Kluber finished with 169 points in the voting of 30 members of the Baseball Writers Association of America while Hernandez had 159 and Sale 78.
Both Kluber and Hernandez were named on all 30 ballots.
by Ricky Hazel