Greenfeather Grant winner: Neighborhood Center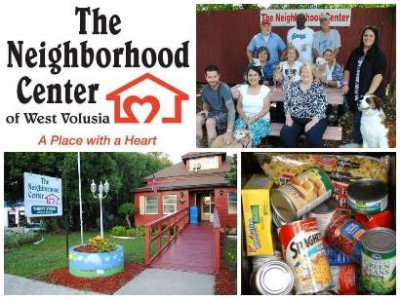 Stetson University is excited to announce that The Neighborhood Center of West Volusia is the winner of the 2014 Greenfeather Grant – a $10,000 grant given to a local non-profit organization as part of Stetson's annual Homecoming traditions.
Twenty-one local non-profit organizations submitted proposals for the Greenfeather Grant, ranging from projects that improve youth literacy and education, to support of individuals with developmental or physical disabilities, to environmental and animal support services. The Neighborhood Center will use the funds to expand their food pantry with a walk-in cooler that can store perishable foods, including fresh fruit and vegetables, frozen meats, and prepared food donated by area restaurants and businesses.
"The Neighborhood Center distributed over 25 tons of food in 2013, and approximately 50 families utilize our food assistance program each day," reported Susan Clark, the Executive Director of The Neighborhood Center. "While the majority of individuals served are currently in the labor force, they do not earn enough to meet their families' basic food needs. Additionally, 16% suffer some type of disability and are unable to work, 16% are elderly, and 28% are children who live in poverty and suffer food insecurity."
Greenfeather is one of Stetson's longest and deepest traditions. Established in 1952, it has become a week-long fundraising competition during Homecoming week each Fall. Students, faculty, staff and alumni all contribute to raise the $10,000 that is distributed to local non-profit organizations who propose capacity-building solutions to meet pressing challenges in our community. The Neighborhood Center will be featured at University events throughout Homecoming week, and the funding will be presented to The Neighborhood Center during halftime at the Stetson Homecoming football game on Saturday, Nov. 8.
"With 21 organizations applying, it was very difficult to select just one recipient," said Heather Hamilton, an AmeriCorps VISTA who serves as the Greenfeather Grant coordinator at Stetson University. "However, with this purchase, The Neighborhood Center will be able to increase the amount of food it receives from regional food banks, as well as increase the amount of nutritious and healthy food distributed to local families in need. We are thrilled that the Stetson Greenfeather Grant will make such a positive impact in our DeLand community."
More information about the Stetson Greenfeather Grant and Homecoming can be found online at www2.stetson.edu/homecoming or by following #HatterHC.
by Kevin Winchell