International Student Enrollment Up 65 Percent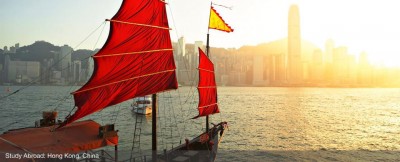 Stetson University is one of the top masters universities in Central Florida for international students as well as students studying abroad, according to the Institute for International Education's (IIE) 2014 Open Doors Report on International Educational Exchange.
Stetson University has seen a 65 percent increase in international student enrollment since 2011, and currently has 157 students from 61 foreign countries enrolled.
"The dramatic increase in the number of international students represents significant efforts at Stetson to strategically focus on one of our core values, global citizenship," said Rosalie Richards, associate provost for faculty development and interim executive director of WORLD: The David and Leighan Rinker Center for International Learning.
According to IIE, the number of international students in Florida has grown by 11 percent since the last academic year. That is three percent higher than the national average of eight percent.
Over the past several years Stetson University has increased its international enrollment and students studying abroad by offering 25 exchange options with more than 400 different programs. Other international initiatives include partnerships with universities in other countries such as Vietnam, Brazil, Latin America, and others; faculty research abroad, joint degrees and other partnerships with foreign universities; and international fellowship, grant and scholarship recipients.
Stetson University's WORLD: The David and Leighan Rinker Center for International Learning coordinates the university's international initiatives; strengthens collaborations with other countries; increases the global engagement of faculty; facilitates the internationalization of the curriculum; enhances the intercultural awareness, experiences and learning of students on all campuses; and increases the overall quality of the academic enterprise by attracting a diverse and rich multicultural mixture of students, faculty and academic partners.
The new Open Doors report was released this week in conjunction with the 15th annual celebration of International Education Week, a joint initiative of the U.S. Department of State and the U.S. Department of Education to prepare Americans for a global environment and attract future leaders from abroad to study, learn and exchange experiences in the United States. This year's statistics document how much more global U.S. higher education has become since the launch of the initiative. The overall number of international students in the U.S. has grown by 72 percent since the first International Education Week briefing was held in 2000. International students constitute approximately four percent of the more than 21 million students enrolled in U.S. higher education.