Law sweeps Region V of NYC Bar National Moot Court Competition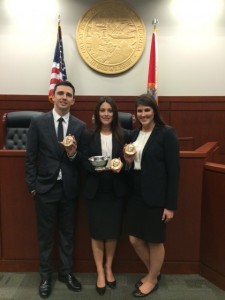 Stetson University College of Law students Alyssa Cory (pictured right), Ryan Hedstrom (pictured left) and Ashley Panaggio (center), swept the regional round of the New York City Bar's 65th Annual National Moot Court Competition on Nov. 8 in Gainesville, Fla. Stetson's team not only won the regional, but the team also won the best brief award and Panaggio won the best oralist award.
The winning Stetson team will also advance to the National Finals of the New York City Bar National Moot Court Competition.
A second Stetson team of Madison Kebler, Paige Lacy and Jeremy Rill advanced to the quarterfinals of the competition.
"Our students have once again shown their extraordinary skills in oral and written advocacy," said moot court adviser and professor Brooke Bowman. "We look forward to the opportunity to compete in the National Finals in New York City in February."
More than 150 law schools from around the country compete annually in 15 regional rounds of the competition for a chance to advance to the National Finals. The New York City Bar Association and American College of Trial Lawyers have sponsored the competition, one of the most prestigious in the nation, for 65 years. Stetson won the National Finals of the competition last year.
Associate Dean and Professor of Law Michael Allen coached the Stetson teams.
Visit www2.stetson.edu/law/advocacy for more information about Stetson University's Center for Excellence in Trial Advocacy.