Rinkers Endow Stetson's WORLD: International Learning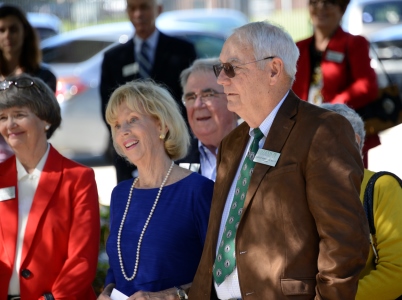 The WORLD: The David and Leighan Rinker Center for International Learning has been endowed by Stetson University Trustee David (pictured far right) and his wife Leighan Rinker (pictured in blue dress).
The dedication ceremony, held during the fall Board of Trustees meeting, honored the Rinker family's long-standing support for Stetson, specifically with the Study Abroad Program. For several years David and Leighan have supported student internships with the AIR Program in Guatemala. AIR (Alliance for International Reforestation), was developed by former Stetson political science professor Anne Hallum. The Rinkers also helped fund an international studies trip series with the Department of Religious Studies.
WORLD, which stands for World Outreach, Research, Learning and Development, strives to offer internationalization and quality education through international initiatives, global engagement of faculty and students and a keen sense of intercultural awareness through experience and interaction both on and off campuses throughout the United States.

Rinker stated that his priority strategic objective in developing this plan for Stetson was to "make intercultural learning vital to the Stetson experience. A primary mechanism for transformative intercultural learning is study abroad," he stated. "Our goal is to make it possible for every Stetson student to study abroad regardless of academic major and financial means."
"We're dedicated to a holistic model of internationalization," explained Paula Hentz, assistant director of Study Abroad at WORLD. "We strive to provide a variety of opportunities for students to become well informed global citizens. While we want to encourage our students to study abroad, we also want them to be able to have international experiences right here on campus by having opportunities to interact with our international students or by taking classes that offer international perspectives. We are very fortunate to have received the Rinker endowment, as it will help us to further these goals."
David '62 is chair and Leighan '65 is vice chair of the Marshall E. Rinker, Sr. Foundation, Inc. They are the founders and owners of Paradox Properties Inc., a Palm Beach County investment company. Rinker is the second of three generations of the Rinker family that has been involved in the life and development of Stetson University.
Since 1987, David has served on Stetson University's Board of Trustees, including two terms as chair. In addition, he served on Stetson's College of Arts and Sciences Board of Advisors. Leighan also served on the College of Arts and Sciences Board of Advisors. David was awarded an honorary doctorate from Stetson in May 2007. They were presented the George and Mary Hood Award in 2013. The Hood Award, one of the university's most prestigious awards, is given in recognition of passion for, and commitment and contributions to, Stetson and its core values. Both Rinkers hold Ed.D.s in Education Leadership from Florida Atlantic University.
Stetson's study abroad programs offer unique opportunities for students to gain invaluable international experience while enrolled in Stetson University courses. Faculty-led programs usually range from one-to-four weeks, normally occurring in the summer or winter. Other programs available include trips to Italy, China, Cuba, the United Kingdom and Austria. Visit the WORLD website for a detailed list on program types and trips.
For more information about WORLD, you can also email [email protected] or call 386-822-8165.
by George Salis