Tip Your Hat….to Catherine Coston '15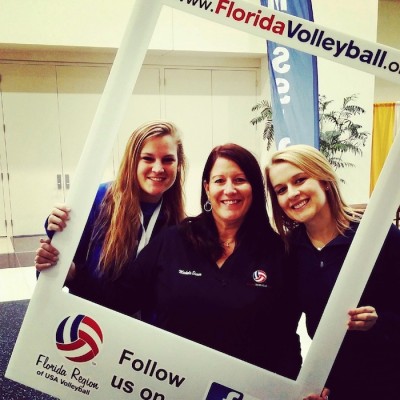 Injuries are a part of life, and for athletes, they are an unfortunate but statistical inevitability. However, there is a side to this battle that gets little attention. Injuries can not only change the outcome of a game, a season, or a team; they can change the direction of one's life.
Catherine Coston was a pivotal part of the Conference Champion Sand Volleyball team last spring. She and her partner, Savannah Byl, clinched the game that sealed the team's fate as champions. So, Catherine entered her senior year with the expectation that she would at least have a shot at duplicating that experience one more time in her last season as a Hatter.
Unfortunately, that all changed one September day on the Sand Volleyball courts. She injured her shoulder in practice, leading to a surgery and a lengthy recovery time.
"In September I hurt my shoulder at practice," said Coston. "I was diving for a ball when I felt it. I lost feeling in my hand, arm, and fingers. I felt something kind of tear in my shoulder, but I had so much pain in my shoulder to begin with, that it just seemed normal."
Like most student athletes who suffer such a serious injury, Catherine was jarred. She not only had lost an opportunity to practice with her team, but she had lost a part of her identity. While she could still attend every practice and go to the scrimmages, she was an outsider on a team she thought she'd be leading. "It's tough every day at practice and trying to get back in, at rehab, while watching my teammates that are seniors playing their last season this semester."
However, instead of wallowing in self-pity and resigning to her fate, Catherine became proactive, and took the initial steps that would eventually lead to a life-changing opportunity.
"I was taking an Introduction to Sport Business class with Dr. (Matt) Wilson, for my minor," said Coston. "We had an assignment where we had to find somebody that had our dream job and interview them. There was no limit, and he really wanted us to shoot for the stars on this. So I thought about it and I found the CEO of the Florida Region of USA Volleyball. The day of my surgery, I was actually lying in the hospital, ready to go into surgery, and I emailed him on my phone. He said he'd love to do it."
Following her surgery, Catherine really began to think about her future and unknowingly began to put the pieces in place during her conversation with Steve Bishop, the Executive Director and President of the Florida Region of USA Volleyball, Inc. The conversation was brief, but it became clear to her that this company was one she wanted to be a part of.
"I loved everything about it and loved everything he said. All his life lessons and how he got to where he was actually was based off of a book we were reading in class, called Good to Great, so it all just kind of fell into place."
Catherine reached out to the company shortly after to inquire about internship opportunities. The company got back to her right away. However, her offer was not for an internship, but for a full-time position.
"Less than a week later I got an email from the CEO's secretary saying they had a job opening for an outdoor coordinator for all of Florida. She asked if I was interested and of course I said 'Yes!'"
The only problem was the offer was for a full-time position with a January start date, and Coston is not scheduled to graduate from Stetson until May.
"I emailed her back and told her I could come in at certain times during the week and on weekends," Coston said. "I told her I would make it work."
An interview was scheduled, and Coston impressed her potential employer with her eagerness to work and finish school at the same time. In the end, Coston was offered a newly-created internship position that would more readily allow her to do both.
"When they told me they wanted to offer me an internship, I was just blown away," Coston said.
At the time of the injury, Catherine was faced with a decision that ultimately determined the course of her career path. She could focus on the pain and the disappointment, or she could redirect her energy and focus on something she could control. While her injury prevented her from competing in her senior season, it also may have been a major factor in her ability to land her dream job right out of college.
For this, we tip our hats to Catherine Coston! GoHatters.com
by Sarah Frohnapfel
Catherine Coston (left) is pictured with two of her co-workers at the Florida Region of USA Volleyball: Michele Sister (center), registrar/office manager; and Ashley Shewey (right), marketing coordinator.