Big World, Big Opportunities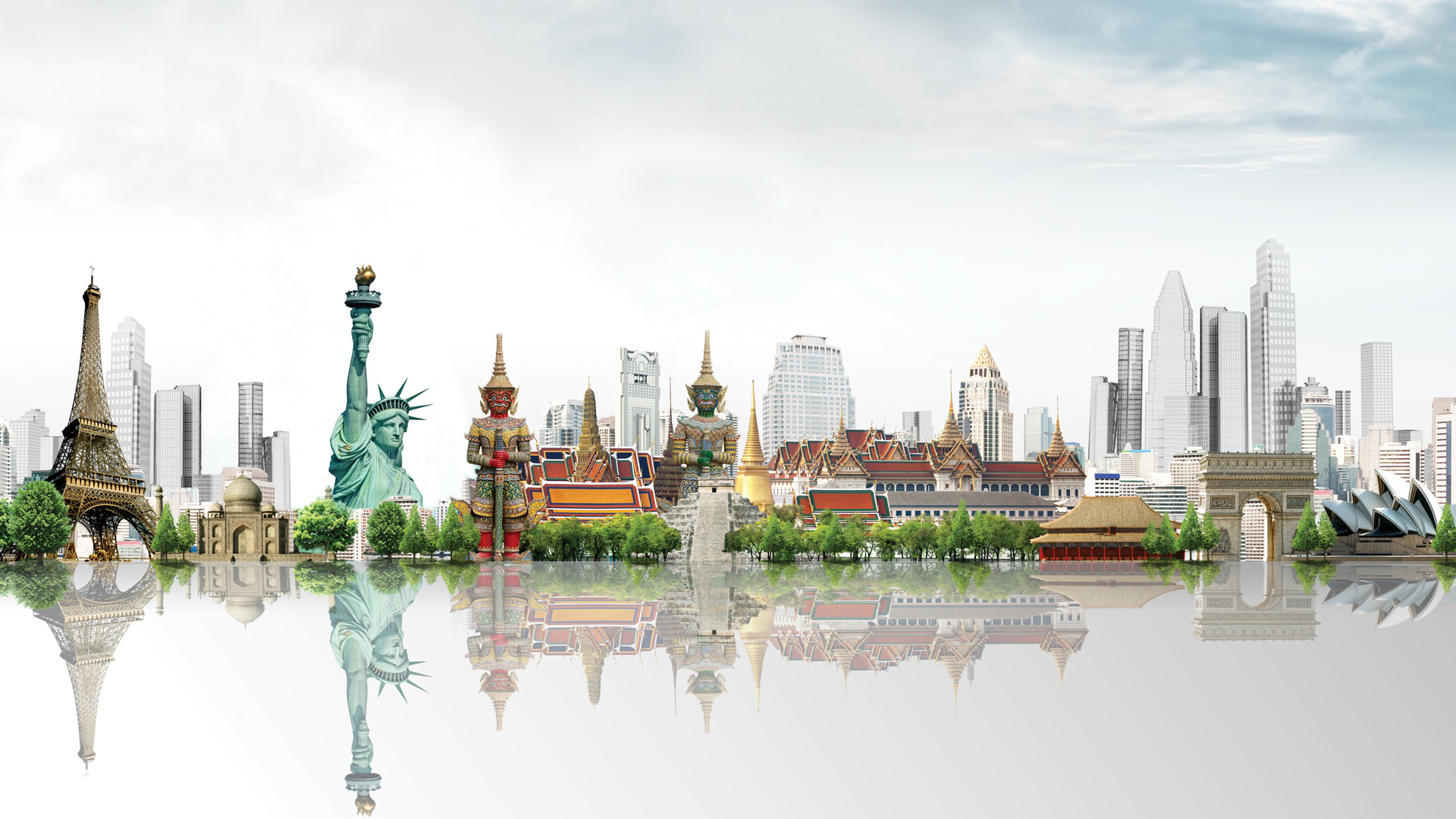 by Michael Candelaria
Caitlin Hannan had always sought a multicultural experience abroad as part of her bachelor's degree in music with an outside field of business. Last spring, Stetson University offered that chance and Hannan spent a semester at the Burgundy School of Business in Dijon, France, studying marketing and management.
And she learned about the world.
"I think going abroad will help me for international business in realizing that Stetson is a very small campus and the United States is really small in comparison to the rest of the world," says Hannan, who graduates in May and plans to pursue a career in marketing. "It makes you realize that there's so much more out there, that you can make a difference in a bunch of places, not just in DeLand."
Born in Tanzania to British parents, and raised in Dubai, Zaygamali Hemani always wanted to study in the United States "somewhere warm." Stetson had all requisite boxes checked, highlighted by a rich academic reputation both domestically and internationally, along with that pleasant climate.
"I had to attend somewhere that I knew my intellect and view of the world would be challenged," says Hemani, who arrived in 2013 and graduates in May with an economics in the liberal arts degree.
"Undoubtedly, my mind and cognition has been opened up to a plethoric world of ideas and differences," said Hemani. "Some may argue that practice makes perfect, but I must disagree; it is the difference of perspective."
Hannan and Hemani are not alone. In a world that is seemingly getting smaller by the day — whether the result of events from afar or the broadening opportunities of new economic partners — Stetson is ahead of the global curve.
During the 2014-15 academic year, 244 Stetson students studied abroad, representing a nearly 13-percent increase from 2012-13. Similarly, Stetson currently has 157 students on campus from 61 foreign countries, an increase of 65 percent since 2011.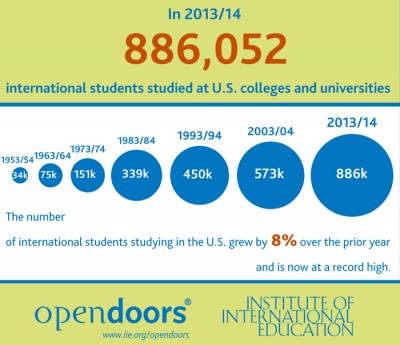 Compare those Stetson-reported gains with the national numbers. According to the 2014 Open Doors Report on International Educational Exchange, published by the Institute of International Education (IIE), international students at U.S. colleges and universities increased by eight percent (to a record high of 886,052 students) in the 2013-14 academic year. The report also found that 289,408 American students studied abroad for academic credit from their U.S. colleges and universities, an increase of two percent. The report was completed in partnership with the U.S. Department of State's Bureau of Educational and Cultural Affairs.
In global education terms, Stetson is growing at a faster pace than many of its counterparts.
Advancement No Accident
"The positive outcomes for international learning at Stetson are the result of a targeted, strategic plan to expand the number and locations of Study Abroad opportunities, exchange programs, course offerings, the number of international students receiving a Stetson degree, and more," said Rosalie Richards, Ph.D., associate provost for Faculty Development. "With these and other important elements, Stetson University is well positioned to shape and deepen our community's intercultural competencies and global citizenship."
That effort translates into a greater international footprint for Stetson.
"We have a lot more opportunities for students to go abroad and for students to come in [to Stetson]," according to Paula Hentz, Stetson's assistant director of Study Abroad at WORLD: The David and Leighan Rinker International Learning Center. (WORLD stands for World Outreach, Research, Learning and Development.) "This has been very intentional. We are improving, and it's been a few years in the making.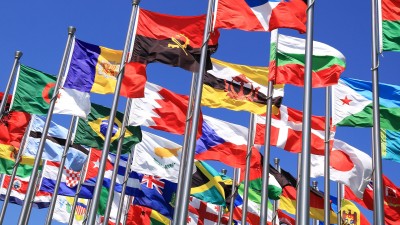 "This is creating socially responsible students who understand what their impact in the world is and how their decisions affect everyone around them," Hentz said. In turn, the education experience is enhanced. "If you want to be successful in any career, you must have intercultural skills and be able to work with people from other countries who have different perspectives."
For the record, the U.S. Department of State's Bureau of Education and Cultural Affairs believes the same.
"International education is crucial to building relationships between people and communities in the United States and around the world," said Evan M. Ryan, assistant secretary of state for Educational and Cultural Affairs. "It is through these relationships that together we can solve global challenges like climate change, the spread of pandemic disease and combatting violent extremism. We also need to expand access to international education for students from more diverse backgrounds, in more diverse locations of study, getting more diverse types of degrees."
At Stetson, that kind of thinking has long been part of curriculum development. Stetson's interdisciplinary international studies program has historically built on the university's international and language study as well as study abroad. Students in the major have the chance to design individual programs of study that address global issues or perspectives of special interest to them. Meanwhile, a minor in international studies provides an international dimension to almost any discipline of study. Also notably, as part of earning a degree in business, students are required to complete approved international study or work experience.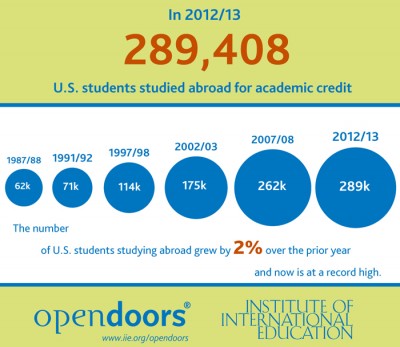 All totaled, nearly 30 exchange options are offered at Stetson with more than 400 different programs. Other international initiatives include partnerships with universities in several countries; faculty research abroad; joint degrees and other partnerships with foreign universities; and international fellowship, grant and scholarship recipients.
A Push for Globalization
At campuses nationwide, there is a similar push for globalization. Despite participation increases, fewer than 10 percent of all U.S. college students study abroad at some point during their undergraduate years. In 2014, IIE launched Generation Study Abroad, a national campaign to double the number of such students by the end of the decade. To date, the initiative has a total of 450 partners, including nearly 300 U.S. colleges and universities from 48 states. Stetson is among them. In addition to increasing study abroad numbers, the campaign encourages and tracks campus activities that expand diversity in race and ethnicity, academic disciplines, destinations and gender of those who study abroad.
News last fall added to the promise of international outreach at Stetson, bringing the potential for a world of difference (pun intended). In November, David Rinker, Ed.D., a 1962 graduate of Stetson and member of the Board of Trustees, and his wife Leighan, Ed.D., also an alumna, made a monetary donation that led to the expansion in what WORLD has to offer.
About the endowment of WORLD, David Rinker stated that his priority strategic objective in developing this plan was to "make intercultural learning vital to the Stetson experience…. Our goal is to make it possible for every Stetson student to study abroad regardless of academic major and financial means."
WORLD leads all university efforts in "comprehensive internationalization," with the focus on "campus culture as an intercultural and transnational intellectual community."
Among the holistic initiatives, for example, is WORLD WISE, involving the Office of Academic Affairs, the Division of Campus Life and Student Success, the Office of Diversity and Inter-Cultural Initiatives and the Center for Community Engagement. The goal is to develop cutting-edge programs with high-impact learning using interconnected curricula.
Such efforts aren't new, but the mounting momentum is palpable.
As a result of the charitable giving, it's possible more students like Hannan will be able to study abroad. She was partly attracted to Stetson because of a funds-transfer policy that allows the use of student financial aid for study abroad. Students also pay the same semester tuition regardless of whether they take the classes on campus or at one of the many exchange locations. More funding now means more possible travel for them.
For Hemani, the enhanced WORLD center has delivered needed support and guidance. "Perhaps at times I do feel out of place, but only due to the fact that there is simply such a small number of people who have a similar upbringing (in terms of geography) as me," he says. "The international team has also picked up on this in the past and taken a lot of steps to make my stay more comfortable." Hemani is now applying to law schools but might also return home, where he says there are immediate job opportunities.
Not coincidentally, Hannan and Hemani have served as "ambassadors" at WORLD.
"It's not necessarily about doubling our numbers, although that would be great if we could," said Hentz about the national campaign. "It's about doubling the numbers overall."
Quite apparently, Stetson already is doing its part.