Newman Civic Fellows Award 2015: Amber Finnicum-Simmons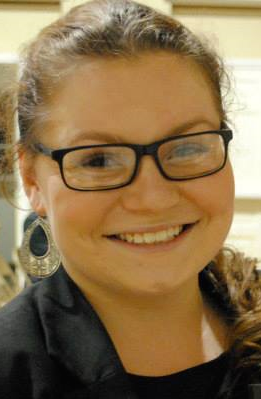 Amber Finnicum-Simmons, a junior psychology major at Stetson University in DeLand, Fla., is the recipient of the 2015 Newman Civic Fellows Award. As a Newman Civic Fellow, Amber is one of approximately 200 students who has been recognized as the next generation of public problem solvers and civic leaders. Through service, research and advocacy, Newman Civic Fellows are making the most of their college experiences to better understand themselves, the root causes of social issues and effective mechanisms for creating lasting change.
Recognizing that many individuals and families experience significant financial hardship due to reasons often outside of their control, Amber came to Stetson and committed herself to working directly with persons who are homeless. Through Stetson's Bonner Program, Amber began by volunteering 10 hours a week at The Neighborhood Center of West Volusia, a local homeless shelter and food pantry, where she welcomed clients, helped organize and distribute food and assisted staff members with additional projects. Through that experience, Amber found that she was able to make a difference through her volunteer work, but there was much more need than there was organizational capacity to meet that need. So, in order to make a sustainable long-term impact on the community, Amber started the Stetson Coalition for the Homeless as a medium to raise awareness of homelessness, which turned in to a pipeline of volunteers from Stetson's campus to The Neighborhood Center. Through events such as Homeless for a Night, Oxfam Hunger Banquets and on-campus bake sales, Amber raised funds and brought in an additional 10 regular volunteers for The Neighborhood Center.
Amber now serves as the Site-Based Team Leader for The Neighborhood Center, a position that enables her to continue building the capacity of her site. In this role, Amber has several major responsibilities, including recruiting and coordinating volunteers, planning and managing fundraisers and serving on the organization's board of directors. Amber has also been trained and certified to use the Homeless Management Information System (HMIS), which gives her the ability to take on additional staff-level responsibilities for the organization. She is also working with Stetson faculty and The Neighborhood Center staff to create a pipeline for students majoring in psychology to obtain certifications and internships with The Neighborhood Center – a prospect that would significantly increase the capacity of the organization to meet its mission of "feeding the hungry, housing the homeless and preventing homelessness in DeLand and West Volusia County."
Beyond her work at The Neighborhood Center, Amber has taken significant leadership roles with our campus Bonner Program – opportunities that allow Amber to mentor 60 other student civic leaders, train them to develop additional professional and leadership skills and find ways to integrate their academic and career goals with meaningful needs in our community.
After she graduates, Amber intends to attend the Master of Arts in Social Work program at University of California – Berkeley with a concentration in community mental health services. From there, she will seek a career as a case worker for mentally ill individuals who are homeless – continuing her work as an advocate committed to breaking the cycle of homelessness through counseling and support services.
The Newman Civic Fellows Awards are made possible through the generous support of the KPMG Foundation. For a full list of the 2015 Newman Civic Fellows, please visit http://www.compact.org/initiatives/awards-programs/the-frank-newman-leadership-award.
by Kevin Winchell