Hatter Saturday welcomes accepted students to Stetson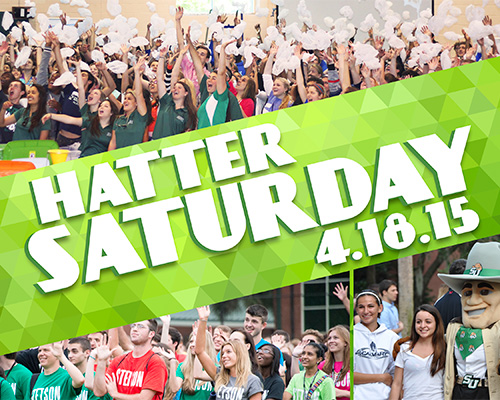 Each April, Stetson University welcomes accepted students and their families to the DeLand campus for a day of fun, fellowship, service and learning at the annual HATTER SATURDAY. The 2015 HATTER SATURDAY is April 18.
Approximately 500 new Hatters and their families will gather on Saturday to attend information sessions with Stetson leaders, faculty, staff and current students to learn more about Stetson and the many opportunities available to them at Stetson.
In addition, the students will participate in a community engagement activity – packing 50,000 nutritious meal boxes for hungry children internationally as well as in Central Florida in cooperation with the Feeding Children Everywhere non-profit organization.
Feeding Children Everywhere is a social non-profit that empowers and mobilizes people to assemble healthy meals for hungry children all over the world. Food packages and donations go to orphanages and public schools in over four continents.
"Hatter Saturday is unique," said Joel Bauman, Stetson's vice president for Enrollment Management. "Through this community outreach program, we actually live out our values with our prospective students by creating 50,000 meals that will be distributed around the world to feed hungry children."
Stetson alumna Kristen Campbell, co-founder, and her husband Don Campbell, founder and chief executive officer of the international organization, brought this program to Stetson and it has become a big part of Hatter Saturday.
"Stetson was the first university to do this at an open house, and only one of a handful of schools that participate in the international project currently," said Bauman. "This is only one of many community engagement programs offered at Stetson in which we dare students to be significant."
Visit Hatter Saturday 2015 for more information, or call Stetson's Office of Admission at (386) 822-7100.
Also happening this weekend:
Theatre: Clybourne Park, Stetson's theatre arts production at DeLand Museum of Art – across from Chaudoin Hall
Art: Opening Reception for Creative Arts Senior Exhibition 2015 (Friday at 6 p.m.); Oscar Bluemner's Europe: The Mediterranean, Hand Art Center
Music: American Composers Recital, Friday, 7:30 p.m., Lee Chapel; University Symphonic Band, Douglas Phillips, conductor – Saturday, Lee Chapel, 7:30 p.m.
Athletics: Women's Softball, Patricia Wilson Field, Saturday, 12 noon; Men's Baseball, Melching Field, Saturday. GOHATTERS.COM