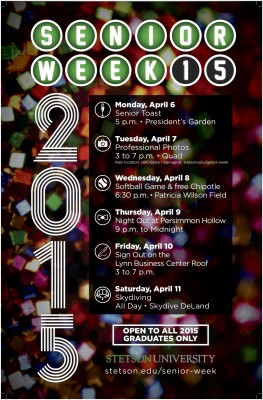 Near the end of every spring semester, Stetson University dedicates an entire week to the celebration of the outgoing class. Senior week honors the efforts of all 2015 graduates, including May, July, and December graduates. During the week of April 6 – 11, our newest alumni will have the opportunity to participate in a variety of events, including the opportunity to have professional photos taken, a night out on the town, and a final sporting event on campus.
The signature event is the Champagne Toast in the President's garden that welcomes our graduates into the Stetson Alumni family, scheduled for Monday, April 6.
Below is the 2015 Senior Week schedule. Be sure to stay tuned to the Senior Week webpage www2.stetson.edu/senior-week and to the Alumni Association Facebook page for contests and the latest details. Be sure to watch the Senior Week 15 video.
Taking pictures of your senior experience? Use #HatterGrad to share your favorite moments.
Monday, April 6: Senior Toast
Tuesday, April 7: Professional Photos
Wednesday, April 8: Softball Game
Thursday, April 9: Night Out
Friday, April 10: Sign Out
Saturday, April 11: Skydiving
By Kristin Gregory