Science Cafe: Impacts of Seabirds on Island Ecosystems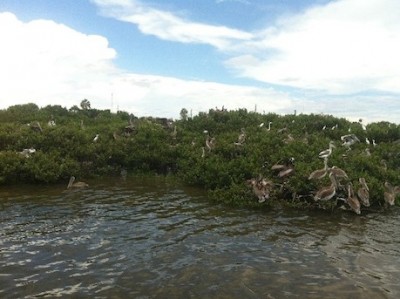 In the Gillespie Museum's third Science Café at Stetson University this spring semester, Wendy Anderson, Ph.D., chair of the Department of Environmental Science, will consider the impacts of large seabird populations on the terrestrial and aquatic environments where they roost. Her talk, entitled "Too Much of a Good Thing? Impacts of Seabirds on Island Ecosystems and Other Coastal Areas" will take place on Thursday evening, April 16, at 7 p.m., in the Gillespie Museum, Stetson University, 234 E. Michigan Avenue, DeLand.
These large colonies of birds feed on fish and various invertebrates in freshwater and marine systems within their range, then concentrate those nutrients through guano deposition. Such colonies are common throughout the world, from the Polar Regions to the Tropics – and everywhere that these colonies exist, Anderson explains, their "presence defines the structure and physiology of the other plant and animals that coexist there." In her Science Café, Anderson will review examples of these impacts and the ways that ecologists have determined seabirds' role in shaping these ecosystems. Through this, we will define seabirds as "ecosystem engineers"—species that fundamentally alter the species composition and function of an ecosystem.
Anderson describes how these "natural" ecosystem engineers can serve as a model for "understanding how agricultural run-off and septic systems have also generated similar types of impacts that fundamentally alter ecosystem structure and function." Returning our focus to our local environment, we can also consider the impact of human waste from leaky septic systems as an "ecosystem engineering" force that is potentially redefining the species composition and functioning of spring ecosystems in Florida.
An international movement, Science Cafés promote scientific literacy by encouraging relaxed, open conversations among scientists and nonscientists of all ages. "Our spring series provides some informal evenings with the university's faculty in environmental science," says Museum Director Karen Cole, Ph.D.
These events are free and open to the public. They are cultural credit events for Stetson undergraduates. For more information, contact the Gillespie Museum by phone (386.822.7330), by email ([email protected]) or by visiting the museum's website (www2.stetson.edu/gillespie).