New Faculty highlight opening Faculty, Staff meeting, Aug. 19, 2015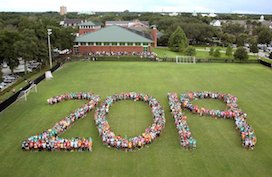 Stetson University's Opening Faculty and Staff Meeting will be Wed., Aug. 19, 9:00-10:30 a.m., at the Edmunds Center with President Wendy B. Libby and Executive Vice President and Provost Beth Paul presiding.
Trustee Steve Alexander '85, will welcome everyone. President Libby will give an update of the university's  2014-19 Strategic Map.
"I look forward to sharing an overview of the progress we have made over the past year," Libby said. "But more important is for us to look forward toward progress over the plan's five-year timeframe. The Strategic Map presents a dynamic plan that will change as we go, shifting our focus to new priorities as we accomplish others and ensuring we stay on the critical path."
New Faculty
Be sure to read Stetson adds Dynamic Tenure-Track and Visiting Faculty in Stetson Today, which introduces Stetson's 21 new faculty members.
"We are so pleased to welcome our new faculty, and welcome back our current faculty to Stetson," said Paul. "Stetson's future is very bright with our vibrant teacher-scholar faculty inspiring our students to live lives of significance."
New Staff
Also critical to ensuring Stetson's success is attracting and retaining the best staff employees.
Since January, new senior staff members have been added in several areas.
Clay Henderson, Executive Director of the Institute for Water and Environmental Resilience
Susan Merchant, Director of Financial Aid
Julie Hunter, Director of University Events
Jose Bernier, Associate Vice President for Information Technology and Chief Information Officer
Drew Macan, Associate Vice President of Human Resources
Shannon Sheppard, Director of Compliance and Title IX Coordinator
Larry Correll-Hughes, Executive Director of Residential Education and Housing
Staff who have taken on new responsibilities since January include:
Lua Hancock is now Vice Provost.
Robert Matusick is now Director of Public Safety and Emergency Management Coordinator.
Colin MacFarlane is now Director of Assessment and Operational Effectiveness.
Beth Ann Kieft is now Director of Admissions Communications and Operations.
Bob Huth is now Executive Vice President and CFO.
Janie Graziani is now Assistant Vice President of University Marketing Media Relations.
Lee Ostrowski is now Director, Infrastructure Services & Chief Information Security Officer.
Jeff Margheim is now Associate Vice President of Finance & Risk Management.
Beth Paul is now Executive Vice President and Provost.
An updated organizational chart, effective August 2015, can be found online.