Stetson adds Dynamic Tenure-Track and Visiting Faculty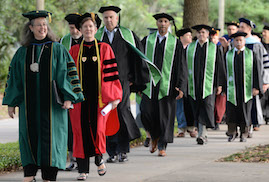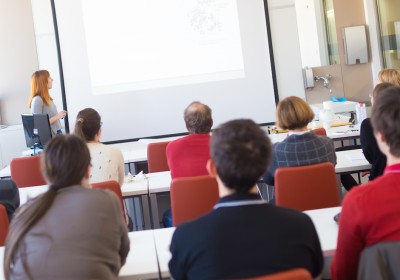 With an historic record-setting undergraduate enrollment at more than 1,000 first-time college students, and almost 100 transfer students, Stetson University begins the 2015-16 academic year welcoming a total of 21 tenure-track and visiting full-time professors, in all four colleges and schools, the duPont-Ball Library and the University Writing Center.
College of Arts and Sciences:
"We have recruited a group of nine extraordinary teacher-scholars to join the Stetson community this year," explained Karen Ryan, Ph.D., dean of the College of Arts and Sciences. "They will help us advance the mission of the College, supporting interdisciplinary programs and engaging our students in experiential learning and undergraduate research. I'm very happy to welcome them to the College and to the University."
These faculty members in Arts and Sciences include Robert Askew, Ph.D., assistant professor of Psychology; Dengke Chen, assistant professor of Digital Arts; Christopher de Bodisco, Ph.D., assistant professor of Economics; Joyce Mundy, Ed.D., assistant professor of Education; Michele Camden, visiting assistant professor of Psychology; Brown Teacher-Scholar in Counselor Education Lamerial Jacobson, Ph.D.; Lynn Kee, Ph.D., visiting assistant professor of Biology; Thomas Vogel, Ph.D., visiting assistant professor of Physics; and Ken Thorson, Ph.D., visiting professor of Integrative Health Science.
"All of these professors are of the highest caliber and their backgrounds will offer a great deal of enrichment to Stetson students," Ryan said. 
School of Music:
The School of Music is adding two new professors to its classrooms as well as a full-time visiting professor.
"In naming Jared Rawlings, Ph.D., as assistant professor and director of the Music Education program, Stetson is making a deep commitment to the training of young music educators who will have a powerful impact on music education in the state of Florida and throughout the nation," said Thomas Masse, D.M.A., dean of the Stetson University School of Music. "The appointment of Peter Smucker as assistant professor of Music Theory, continues our commitment to a rigorous undergraduate academic music curriculum." Additionally, Tammara Phillips, D.M., will be joining the faculty full-time as visiting lecturer in Music.
School of Business Administration: 
The Stetson School of Business Administration welcomes two new tenure-track faculty members and two visiting assistant professors this year.
"Professor of Leadership Ram Subramanian will enhance Stetson's executive M.B.A. program and will support case research being conducted by many of our faculty members," explained B. Madhu Rao, Ph.D., associate dean of Undergraduate Programs in Business and professor of Decision Sciences. "Assistant Professor of Family Enterprise and Entrepreneurship Isabel Botero, Ph.D., will add to the strength of our signature programs in family enterprise and the Family Enterprise Center."
William Sause, Ph.D., and Serina Haddad, Ph.D., are slated to serve as visiting assistant professors of Decision and Information Sciences in the School of Business Administration.
College of Law: 
Stetson University's College of Law will welcome three visiting professors this fall: Carliss Chatman, J.D.; Michael Oeser, J.D., LL.M.; and Gail Richmond, J.D.
"I am thrilled to welcome new faculty members to enrich the academic experience for our students at the College of Law," said Dean of the College of Law Christopher Pietruszkiewicz, J.D., LL.M., and professor of Law. "In the next academic year, visiting faculty members from a wide range of backgrounds will be joining us as we continue to provide a curriculum that prepares our students for their professional careers."
duPont-Ball Library:
New to Stetson's du-Pont Ball Library this year will be Grace Kaletski, assistant professor, Learning and Information Literacy Librarian.
"Professor Kaletski has a passion for incorporating emerging technologies, active learning and information literacy to her instruction sessions," said Susan Ryan, dean of the Library and Learning Technologies. "She is a great fit for our mission and vision. With her skill set she should make some significant contributions to teaching and learning, collaboration and innovation."
University Writing Center: 
Taking the helm as Director of Stetson's Writing Center and Assistant Director of the Writing Program at Stetson University is Leigh Ann Dunning. "Leigh Ann's experience, expertise, and education make her the best choice for the leadership of the Writing Center," said Associate Vice President for Academic Affairs John Pearson, Ph.D., professor of English. "She has very strong interpersonal skills, a strong liberal arts background with a solid understanding of professional education, and she is deeply committed to student learning."
By Trish Wieland