Tools to learn in college to prepare you for career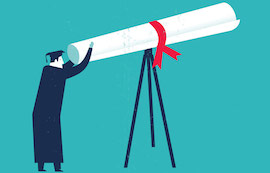 What you wished you had known in college, but didn't – (1st of two parts)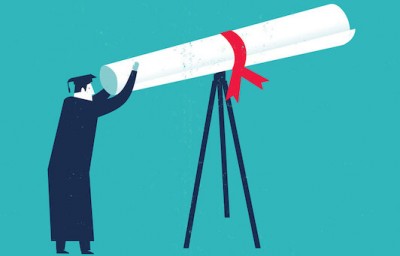 Dear Students:
To get the most out of your financial investment at Stetson, with the goal of either obtaining the job of your dreams or attending graduate school for an advanced degree, it is never too late to start paving the way for success with good practices.
In 1979 a study was conducted among Harvard M.B.A. students to determine if they had set "clear, written goals for the future and made plans to accomplish them." Only three percent of the students had written goals and plans to achieve them, 13 percent had goals and 84 percent had no goals.
Ten years later, the 13 percent who had goals were earning, on average, double than the 84 percent who had no goals. But the three percent who did have goals and written plans were earning 10 times as much as the other 97 percent combined!
This is the time to search inside and see what makes your heart sing. What is your passion? What would you love to do? What would you love to be, have, do and give to the world? If you take the time to answer those questions, you are so far ahead of your peers.
Two books that will help you along this journey are What Color Is Your Parachute – A Practical Manual for Job Hunters and Career Changers, by Richard N. Bolles, and Barbara Sher's I Could Do Anything If I Only Knew What It Was. Both will help you gain a sense of not only what you're good at, but shine a light on how you look at yourself as a person and how you make a contribution in this world. There are also personality and career tests available online that Stetson's Career and Professional Development Department can share with you.
Once you have a sense of your direction, consider how these tools will assist you on your journey:
Social Media:
While most students focus their time on Facebook, Instagram, Pinterest, the most valuable social media platform for your financial future is LinkedIn. Here you will build your contacts, find groups of people who are interested in the same things as you, post articles in your field for others to read and comment on, thus moving you into an expert space, learning how others manage their careers, lives, time and much more.
Additionally, you'll be able to search for other Stetson alumni in any graduation year, and find where they live, what industry they work in, and what company they work for. This is a goldmine of assistance when you begin networking for various jobs over your lifetime.
To learn how to use LinkedIn professionally, attend their website tutorials here.
Networking:
This is the most important skill you can possibly learn to help you throughout your life. Whether you're looking for that first internship, first job on campus, first job after graduation, or eventually a nanny to take care of your newborn, it all comes together through networking.
The reason networking is so effective is you are building relationships with others not only for the task at hand today, but to learn about them for possible assistance later in life. Once you take the time to truly listen and learn about a new person, their qualifications and expertise will be in the back of your mind. Their skills may not be useful to you at this moment, but you never know when they personally can assist you or can recommend someone to assist you down the road.
From a face-to-face perspective, every local community holds business networking meetings each week. Professionals from various industries with all types of skills come together either for breakfast or lunch and simply meet other people and share what they can contribute and what they might be in need of. Chambers of Commerce are designed to match professionals together to do business with one another.
So search out local meetings and attend several. Get a feel for how they work. Smaller meetings often allow each person to introduce themselves briefly and explain what they may be looking for. You might be approached with an opportunity or internship once folks learn about you.
Also, after effectively setting up your LinkedIn profile, start to search for other professionals, starting with Stetson alumni, who are already working in the profession you would like to work in. Reach out and send a short note telling them you are currently at Stetson and would like to learn more about them. Ask if they would be willing to speak with your briefly to learn the good, bad and ugly of their profession. It will be an eye-opening conversation and provide insight to determine whether you wish to continue down that path. Do this frequently. Your research will not be in vain.
Tomorrow, in part II, we will focus on Jobs on Campus, Outside Corporate Internships, Applying for Graduate School and Employment After Graduation.
By Mary M. McCambridge