What you wished you had known in college–but didn't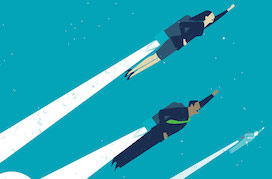 Tools to Learn in College to Prepare You for Your Career – (the second of two stories in this series for students)
Jobs on Campus/Student Employment or Outside Internships with Corporate Employer while working toward your degree:
There are many jobs on campus and in local companies to help you with your expenses and to provide much-needed skills to carry into your full-time professional career once you have graduated. Be mindful to choose, if possible, something that will give you experience in the field you wish to pursue upon leaving Stetson. Students are encouraged to speak with the staff at Stetson's Career and Professional Development Office or the Student Employment Office to pair you with a job that will give you much needed knowledge toward your chosen profession.
A few points to consider:
Use this time wisely; gain as much knowledge as possible from the people you work with.
Ask your superior to be your mentor for the short time you are working with them.
Ask them exactly what is expected of you and what will be the benchmarks to know you've succeeded.
Show up on time for this position. This job gives you the ability to learn how to build discipline and handle business protocol now.
Work the entire time you are scheduled. If you agreed to work 4 hours, work the entire 4 hours, with your phone off and put away. Also do not play on Facebook while on the computer. Give that employer's work your full attention.
Come to work dressed appropriately and professionally. Opt for conservative clothing. Take a look here to learn how to dress in an office environment. And if money is a factor, go to a local thrift shop and find what you need for less. Better to buy a quality garment for one-quarter the price and tailor it than something that does not portray a professional look.
Applying to Graduate School:
Some students may opt to continue their education for the advanced degree which will move them toward their desired career. In that case, it is important to speak with your academic advisor at Stetson very early to determine that you will have the appropriate courses needed to be accepted by the graduate program of your choice.
A few steps:
If you already know you wish to attend law school, begin by getting their catalogs or looking online to see if what they offer is truly the coursework you wish to pursue.
Connect with someone at that university to determine the required undergraduate coursework you would need to be accepted by them.
Ask for an application. Even if you won't be applying for a few years, you will have a sense of what they request in their application and can prepare.
Determine which exams will be required, MCAT (medical school), LSAT (law school), GRE (master degree programs), GMAT (M.B.A. programs). Purchase books with tests so you can get a sense of what type of questions you will encounter on the tests.
Start to consider how you will financially pay for your advanced degree. How much will it cost? How will you pay for it? Will you use loans, savings from summer jobs, is your family able to contribute? What will be the overall cost for the education? The tuition for a degree is only part of the cost. You will need to also consider room and board, spending money and, if you aren't going to work during graduate school, the money you would have earned that will be lost.
Once you reach the end of your junior year, it is time to find out the dates for your GREs, MCATs, LSATs, or GMATs, etc., and schedule to take the first test in early senior year. If you don't do as well as anticipated, you can decide whether to retake the test a few months later.
Visit your top tier universities. Sometimes those you had as your preferred picks might be placed at the bottom of the list after experiencing the campus, its staff and students.
Obtain all the current applications from the schools you have already decided to apply to and begin working through the various requirements. Some expect lengthy written essays describing why you should be accepted. And don't forget to make provision for all the application fees.
Since you'll be methodically working through all the portions of each application, remember you'll simultaneously be studying and writing papers for your normal senior year classes at Stetson, perhaps working that part-time campus job or internship, and somehow enjoying a small social life. Balancing all these parts of your life may seem overwhelming, so recognize that this is temporary, yet give yourself time and plan for the increased work to apply to the graduate schools of your choice.
Employment after Graduation:
The very best way to obtain and secure a long-term job is to gain that opportunity through networking. Sending out hundreds of resumes to random job offers, or placing your resume online with hundreds of thousands of others, doesn't make you stand out.
As discussed, networking will insure that you have built a relationship with someone who knows, likes and trusts you enough to hire you. Your character is everything so be aware how you conduct yourself on social media and in your everyday interaction with others since it does determine your employability.
Also, do not discount becoming an entrepreneur. Some of the most successful individuals held a dream in their minds and kept going until it was realized. Steve Jobs of Apple knew what he wanted to share with the world and he sacrificed until it was completed. Perhaps that's you. If so, visit those on campus who specialize in building businesses, read biographies about men and women who created great products and services and learn what they went through on the road to success.
The best way to succeed in your professional life is to have a clear sense of what you want, where you would like to go and then finding the people and resources and learning the skills to get there.
As Winston Churchill once said, "Never, Never, Never, Never Quit!"
By Mary M. McCambridge