Bluemner's Orient and Ocean Trash: New Exhibits at Hand Art Center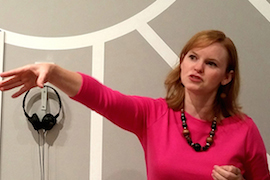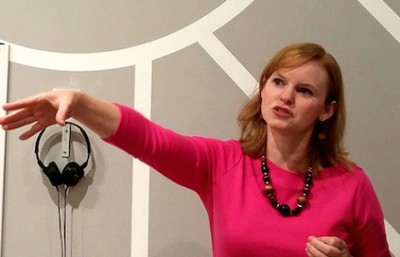 The opening reception at Stetson's Hand Art Center celebrated three new exhibits, all revolving around the theme of nature in general and humanity's relation to it, in particular. These exhibits are Oscar Bluemner's Orient–featuring works from the Vera Bluemner Kouba Collection, as well as Drifters by Pam Longobardi, and also featured works by sound artists Ethan Greene, D.M.A., assistant professor of Digital Arts, and Nathan Wolek, Ph.D., associate professor of Digital Arts and Music Technology. The latter of the three exhibits is part of the new Faculty Focus, which features works by faculty in the Creative Arts Department. Wolek is chair of Stetson's Department of Creative Arts.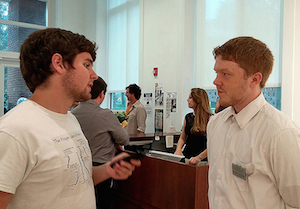 The Drifters exhibit, which was entirely made of plastic trash found on beaches throughout the world, included (among other things) old toothbrushes, deflated party balloons, and included a short film detailing where most of these pieces of ocean trash are usually found. All of this conveys how humanity, Earth's apex predator, cares little for lesser beings, especially since the consumer boom that followed the end of the Second World War.
As the Art Center's Director, Tonya Curran, noted, "What [Longobardi's] idea is with her art is to draw attention to our consumerism and how much plastic we are putting into our environment."
This point of view was supported by biology major Orion Maier '17, who stated, "It's a well-done piece of activist art."
That is not to say that the other two exhibits did not draw interest. Oscar Bluemner's Orient collection, which consisted of his signature miniature landscapes and a collection of Japanese wood-prints that he was inspired by, attracted a considerable amount of attention from the reception attendees.
So too did the Faculty Focus project, which consists of a collection of sounds recorded in the Palm Court along with insect noises arranged in a musical rhythm, depending on how many people are standing in front of the sensors.
The Drifters exhibit and the Faculty Focus will be on display at the Hand Art Center until Oct. 17, and the Oscar Bluemner Collection will be on display until Dec. 4.
And, as Mitch Robey '17, made clear, "Stetson students should come out to the Hand Art Center more often."
The Hand Art Center, located in the university's Palm Court, at 139 E. Michigan Ave., houses Stetson's extensive collection of art by Modernist painter Oscar Bluemner (1867-1938). Open, free of charge, Monday-Friday, 11 a.m. – 4 p.m., and Saturdays noon – 4 p.m., the HAC is closed during university holidays. For more information contact Tonya Curran, director of the Hand Art Center at [email protected], or call (386) 822-7271. Contact Creative Arts @ Stetson University for more information. All art exhibitions are also posted on Stetson's online calendar found on Stetson Today.
By David Baker
Photography by Anna Chun