Soccer's Diniz: Men's National Player of the Week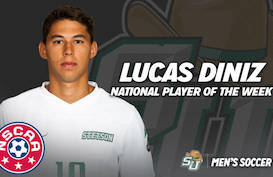 Hats Top Regional Poll.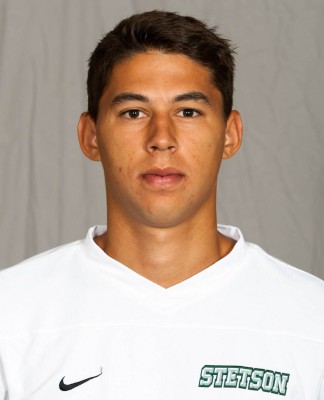 Stetson's Lucas Diniz has been named men's national player of the week by the National Soccer Coaches Association of America (NSCAA), the organization announced on Tuesday, Sept. 1.
Diniz is the first NCAA Division I men's winner of the 2015 season, and is believed to be the first Hatter to win the honor. In the Hatters' opening week, he posted five goals in two road wins. Diniz started the season with two goals in the season opener at Georgia Southern on Friday. On Sunday, he followed up with a hat-trick in a 3-0 win UAB. That hat-trick feat was the first for the program in four years.
Diniz, a native of Goiania, Brazil, also picked up his third career Atlantic Sun Player of the Week honor and also led Stetson to its first 2-0 start since 2011.
Stetson continued to get more good news on Tuesday when the NSCAA released their weekly national and regional rankings. The Hatters were voted as the No. 1 team in the Southeast Region after their strong start last week, while also receiving 19 votes in the NSCAA's Top 25 poll.
Additionally, Diniz on Monday was named to the College Soccer News National Team of the Week.
Stetson opens the home portion of its 2015 schedule at 7 p.m., Friday, Sept. 4, when the Hatters host Detroit at the Athletic Training Center. The Hatters also host FIU, 7 p.m., Sunday, Sept. 6.