Exploring Florida Stetson Style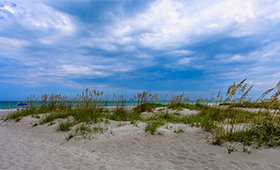 by Scott Morris
When most people think of Central Florida, they think of Disney World and other area theme parks. Wet-N-Wild, Busch Gardens, SeaWorld, Universal Studios, Epcot and the marathon-of-kitsch that is International Drive, to mention only a few. This is the tourist capital of the world, after all.
It also happens to be a region of spectacular natural beauty. What's more, there are still many places where you can enjoy vibrant instances of old-school Florida culture: think of restaurants and amusements that embrace Florida rather than pave over it.
Once you know about them, the opportunities are amazing.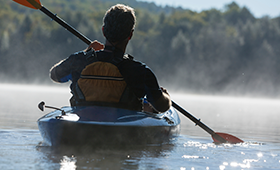 Being in Central Florida means you are a little over an hour from the Atlantic Ocean and the Gulf of Mexico. It means a staggering number of gorgeous lakes, rivers, creeks and springs. It means year-round access to locally grown produce, a bounty of fresh seafood and an artisan community of cattle and pork farmers — all of which has led to an explosion of some of the best, locally sourced dining you'll find anywhere.
Believe it or not, there are even a few theme parks that fit the bill when it comes to celebrating Florida. So help yourself to a weekend or a daytrip of pure Florida joy. Here are a few ideas to get you started.
New Smyrna Beach
There are lots of wonderful beach towns within a short drive of Stetson, but the closest (just over a 30-minute drive), and arguably the best if you want a real Florida feel, is New Smyrna Beach. What's so awesome about NSB is that it exudes a local ambience: a sleepy, small-town, surf-and-sand atmosphere. Stay here for a few hours, and you'll feel you've gone back in time.
Topping the NSB must-do list is the beach itself, of course. Kick back and enjoy the white sand and beautiful water. And yes, there are cars on the beach. For a small fee, you can drive your car onto the beach and use it as your fun-in-the-sun basecamp. Bring folding chairs and a cooler for a picnic and you're set.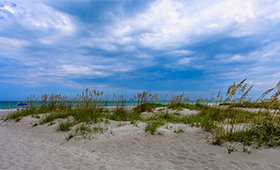 At NSB, there are a number of places where you can rent surfboards, boogie boards, paddle-boards and rafts, either at trailers on the beach or at one of the surf shops on the main road that cuts through the heart of NSB, Flagler Avenue.
Speaking of Flagler Avenue, take a stroll from the beach to Mosquito Lagoon, which is part of the Intercostal Waterway. NSB is surrounded by water, and you can get from one side to the other within a pleasant half-mile walk down Flagler. Flagler is where you'll find plenty of homegrown spots to eat, drink and make merry, as well as boutiques and art galleries. Festive NSB is given to throwing events and parties, so check out this website to learn what's happening.

When you walk back down Flagler toward the beach, you might be hungry. Behold, The Breakers. The Breakers is a storied Florida throwback, a restaurant and bar right on the beach. The windows are open for a maximum view, and you can sit and sip a cold beverage and watch the ocean while awaiting one of the tastiest burgers around. There are 17 different versions of The Breakers' Burger, but whatever the incarnation, it is routinely one of the top-rated in Central Florida.
In the mood for really fresh, award-winning seafood? Go to the iconic Norwood's, opened by Earl Norwood in 1946. Almost everything on the menu — bread and butter included — is made from scratch. And oh, the fish! If you want a taste of genuine Florida deliciousness, try the hog snapper or the black grouper. This is the kind of offering to make even a Fedora-wearing Foodie hipster from Brooklyn envious.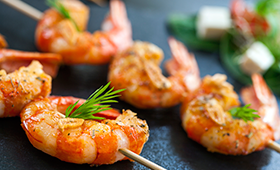 Now Norwood's has expanded and created a second-floor, tree-house deck. Ocean breezes waft between you and the live oaks that grow right through the deck. If you want to catch the game, there are plenty of TVs.
What if you want to see a manatee? To paddleboard or kayak among the dolphins and mangroves of Mosquito Lagoon? To watch the most incredible sunset while noshing on oysters or a basket of Florida rock shrimp brought in by local fishermen? Then it's time for JB's Fish Camp.
JB's sits right on Mosquito Lagoon. Dine outside or walk onto the dock and be on the lookout for passing manatees and dolphins. Better yet, rent a kayak or a paddleboard from JB's rental office. There's live music on weekends and holidays. Short of owning a place on the Intercostal Waterway, this is as close as you can get to going native. Don't miss the sunset or the trailer selling JB's famous t-shirts and caps.
It's hot at the beach, and NSB has two excellent places to grab ice cream. The old standby is Frozen Gold, a locals' favorite. Across Mosquito Lagoon back on the mainland, there's the postcard-from-the-past Dairy Queen at 729 N. Dixie Freeway.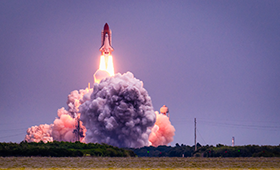 If you want to experience a beach in the same pristine condition as it was hundreds of years ago, drive south on A1A about 15 miles from NSB until you reach the end of the road and the beginning of Canaveral National Seashore. This federal park is a barrier island where you can wander and explore for hours. It's also a great place to watch NASA launches, as Cape Canaveral is nearby.
Spring Loose
Captivating as they are, the beaches have nothing on Florida's sublime freshwater offerings. There are many spring-fed rivers within easy driving distance. Most allow unfettered roaming of the rivers and wilds, with canoe and kayak rentals, as well as camping facilities.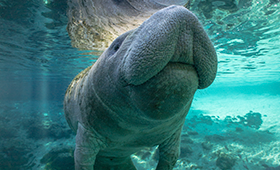 There's the manatee-haven known as Blue Spring, less than 20 minutes down the road. Though Blue Spring is closed for swimming and water activities during the winter, it turns out that is when people love to visit and watch the manatees. Herds of them gather at Blue Spring to keep warm from mid-November until March. Another treat: After opening back up to swimmers in March, Blue Spring has a "firefly season" usually the first weeks of April, when thousands of fireflies light up the woods at dusk. The park allows day visitors stay late to see it.
Another 20-minute jaunt will get you to De Leon Springs. Yes, as in Ponce De Leon. And to answer your next question, yes, this is where he thought he would find the Fountain of Youth. That's the legend anyway, and one look and you'll know why.
De Leon Springs is home to the popular Old Spanish Sugar Mill Grill and Griddle House restaurant, a 100-year-old replica of an 1830s sugar mill that stood on the site. It is also where you can take the Fountain of Youth Eco/Heritage boat tour.
One of the very best springs is just a short drive down I-4 in Seminole County, Wekiwa Springs. Wekiwa Springs and the Wekiva River are mind-blowing.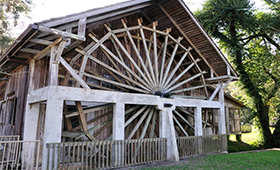 Officially, Wekiwa, Native-American Creek for "spring of water," is the name of the state park and spring, while Wekiva is the river and is Creek for "flowing water." Does it ever: 42 million gallons of pure, crystal-clear water pour out of the spring each day.
And you can swim right into the source. The center of the park is a deep, cavernous swimming hole where the springs are located. You can also rent a canoe or kayak and head down the river. Glide past alligators, otters and largemouth bass through Florida jungle for an hour or so and arrive at your destination, Wekiva Island. You'll have to paddle back, of course.
This Florida-style Funk Fest of an outpost features a first-rate food truck, a sand volleyball court, live music, a handsome outdoor bar and plenty of lawn space for sunbathing. Dogs are welcome, too.
If you want something more adventurous, head over to nearby King's Landing, at the headwaters of the Wekiva and Rock Springs runs. This canoe trip will take several hours as you drift over preternatural, glowing white sand atop the insanely clear water. For this run, you don't paddle back. A van will pick you up at Wekiva Island, after you've had a chance for food and refreshments.