Greenfeather Grant Recipient: Duvall Homes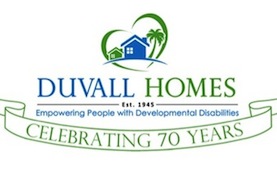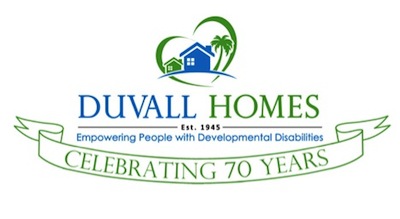 Stetson University's Greenfeather Grant recipient for 2015 is Duvall Homes, it was announced today by Veronica Hernandez, AmeriCorps VISTA who serves as Stetson's Greenfeather advisor.
A long held tradition at Stetson University, Greenfeather originated in 1952, as an autumn carnival where students raised funds for local charities. Over the decades, Greenfeather has expanded to include a weeklong competition among student teams vying for the Greenfeather Cup. This year, as part of Stetson's annual Homecoming traditions, Greenfeather teams will compete in fundraisers with the goal of raising $10,000 to present to Duvall Homes at half-time of the Hatter Homecoming football game, Saturday, Nov. 14.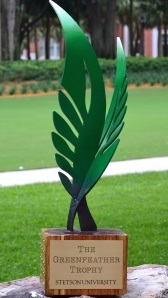 "Greenfeather is a unique tradition that is only seen at Stetson," said Hernandez. "The whole university comes together and uses the energy of Homecoming traditions to give back to our local community."
Duvall Homes is a local nonprofit agency that offers a range of services to empower adults with disabilities. The awarding of this grant coincides with the 70th anniversary of Duvall Homes as well as the 25th anniversary of the Americans with Disabilities Act. Since Duvall Homes opened its doors in 1945, its mission has been to "provide the highest quality of life the greatest level of independence for each resident by creating an individualized plan that includes opportunities for personal growth." Stetson's 2015 Greenfeather Grant will contribute to an organization that seeks to provide skills to those with disabilities that will "lead to a life of dignity and independence."
The Greenfeather Grant will go to Duvall Homes' ECCO project (Enhancing Communication and Community Opportunities—for the Developmentally Disabled), which will expand their Day Training program.
"More than 50 percent of participants are non-verbal communicators and funding for technology and assistive software is vital to opening the door to language and self-expression," said Elizabeth Bhimjee, director of Development at Duvall Homes. "Despite having only 10 iPads to share among 83 participants, the staff is witnessing incredible breakthroughs with this technology."
The Greenfeather Grant will be used to provide for much needed additional technology, vocational training equipment, and educational materials to support the growing number of participants.
Greenfeather team registration is currently open for all student organizations and even students who wish to create their own team! More information on the events, donations and the link to register for Greenfeather, can be found at stetson.edu/homecoming.