One Stetson, Many Stories: Values Day 2015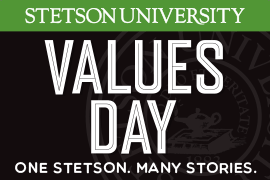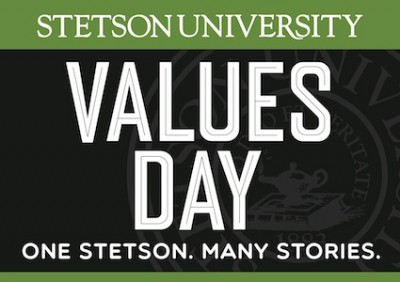 "One Stetson, Many Stories" is the theme for this year's Values Day, Tuesday, Sept. 15, when the Stetson community will celebrate its many diverse backgrounds. Established by Stetson University's eighth president, H. Douglas Lee, Values Day has become a yearly tradition where in the month of September, the entire community comes together to celebrate Stetson's core values: personal growth, intellectual development, and global citizenship.
Values Day is organized to encourage continued dialogue between faculty, staff, students and community partners; as a result, classes will be cancelled so the entire Stetson community will be able to come together and participate in this annual event.
This year, Robert Sitler, Ph.D., professor of World Languages and Cultures, and director of the Latin American Studies Program, will be stepping down from serving as chair of the Values Commitment Steering Team and passing the leadership role on to Chris Bell, Ph.D., assistant professor of Religious Studies.
"We are deeply grateful for Dr. Sitler's leadership as chair of the Values Commitment Steering Team, particularly with the establishment of Values Day as a cornerstone experience for our campus community," said Savannah-Jane Griffin, a member of the Values Commitment Steering Team who serves as Director of Stetson's Center for Community Engagement. "We look forward to the leadership of Dr. Bell and the exciting new ideas he will bring as the incoming chair."
The keynote address this year will be delivered by Presidential Inaugural Poet Laureate Richard Blanco, American poet, public speaker, author and civil engineer; his address will focus on this year's theme and the importance of sharing stories with one another. Blanco will also be on campus Monday, Sept. 14, in the Stetson Room, second floor of the CUB, for a book feast to discuss his book, The Prince of Los Cocuyos, at 10 a.m, and 2 p.m. Free copies of the book are available for those who wish to participate in the book feast, at the Center for Community Engagement, located at 609 Bert Fish Dr., across the street from the Hollis Center, in between the Cross Cultural Center and the Counseling Center. Cultural credit will be available to all students who participate in the event.
The schedule for Values Day includes:
Service projects in the community
A performance by the Stetson University Concert Choir followed by a keynote address by Richard Blanco
Global Citizenship Fair and community lunch in the Commons at the CUB
The Drifters Project by Pat Longobardi currently on display at the Hand Art Center
Over 25 workshops dedicated to Stetson University's core values
Hunger Banquet
Yoga under the stars
Great Organists at Stetson Series.
Students can receive up to seven cultural credits by attending seven events on Values Day. Students will be able to receive cultural credit after each event in the location that the event is happening, except for the service projects and workshops. There will be an Honors Council Table, located in front of the CUB on Values Day from 12 p.m. to 7 p.m. where students who participated in the service projects and workshops will be able to receive their cultural credits. Such trust is possible since Stetson University has embraced an academic environment that assumes the integrity of its students.
Stetson invites all members of the university community to offer their time, energy and passion to help the institution take further practical steps on all Stetson campuses and in university operations to thoughtfully incorporate its values and commitments.
For more information about Values Day, contact any member of the Values Day Planning Committee. To see accomplishments made regarding Stetson's values and commitments, visit the Values Commitment Steering Team. To send your thoughts, recommendations, or to talk further with Steering Team members, email [email protected].
by Anna Chun